*This Summer Music Special was originally published on July 26, 2010.
This installment in the Classic Albums DVD series, to be released August 3, 2010, comes amidst a North American tour from Tom Petty and The Heartbreakers, promoting their latest release,
Mojo
. Originally released in 1979,
Damn the Torpedoes,
was a breakthrough record for the band, in terms of song quality, overall production values, and sales. It has gone on to become one of the top rock albums of the past thirty years.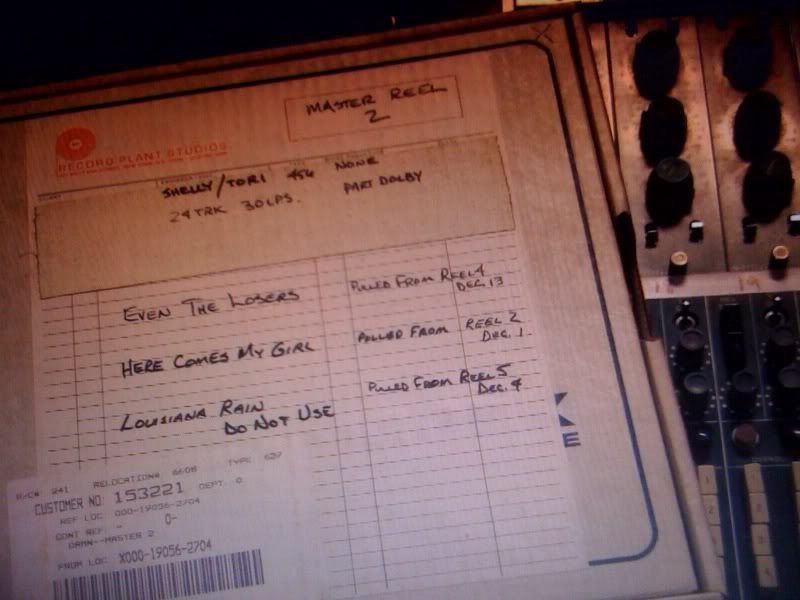 (
Damn the Torpedoes
, master tape box)
This Classic Albums installment follows the series formula, with a large component consisting of Petty, guitarist Mike Campbell, and producer Jimmy Iovine sitting at the recording console, playing back the tapes. For anyone who has taken this album for granted over the years--or thought it was just straight ahead rock and roll, you'll come away with a greater appreciation for the thought and musicianship that went into these songs. And as someone who came of age in the Eighties and picked up
Torpedoes
at the time of release, it's nice to see it get the respect it deserves.
(Tom Petty and The Heartbreakers, 1981)
Present-day interviews with recording engineer Shelly Yakus, keyboardist Benmont Tench, and bassist Ron Blair are also featured--and they too, take us through their parts of various recordings. Drummer Stan Lynch, who is no longer with the band, is featured in several older interviews. Video footage from the era as well as from original music videos, round out the presentation. Every song on the album--but two, are covered within the nearly one hour main feature, and the bandmembers--primarily Petty and Campbell, offer plenty of insights into the songwriting process.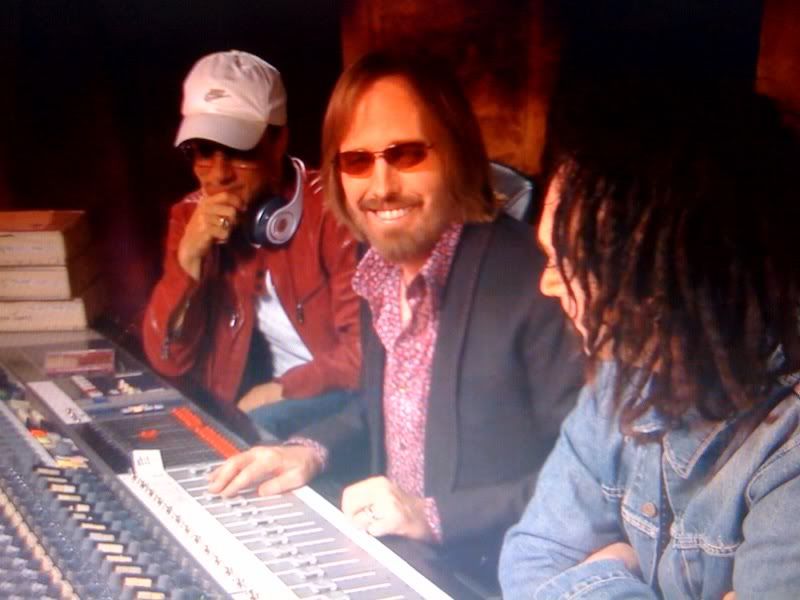 (Producer Jimmy Iovine, Tom Petty, Mike Campbell)
Although any fan of the record would enjoy this Classic Albums installment, what makes it particularly fascinating for musicians and audiophiles is Petty's, and to an even greater extent Campbell's genuine obsession with vintage guitars and amps, and finding the perfect guitar tone--sixty-cycle hum can be heard purring from the amp every time Campbell picks up his guitar to play a lick from the album.
In addition to the main feature, there are over forty minutes worth of bonus features. Two of those features are the two album cuts "missing" from the main feature. Among the rest of the bonus material, none of which fortunately, are throw-away celebrity interviews--and much of which is equally as entertaining as the main feature, is Campbell recounting how he acquired the famous Rickenbacker 12-string held by Petty on the
Damn the Torpedoes
album cover.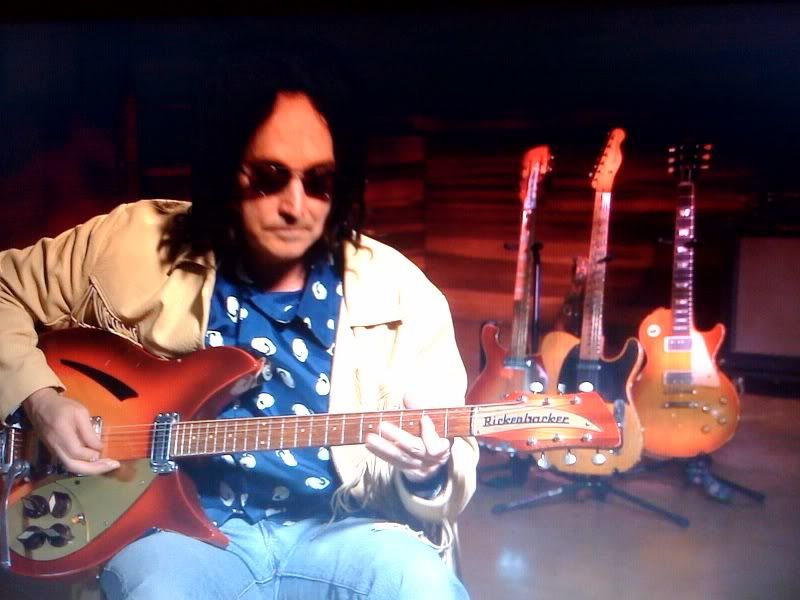 (Mike Campbell, with Rickenbacker 12-string)
Video quality of this 1080p Blu-Ray disc varies, depending upon its original source, with the recent interviews obviously having been recorded in HD, faring the best. Audio is presented in LPCM stereo, and although not in 5.1 as some might prefer--it sounds very good. Although the argument for buying the Blu-Ray over the standard DVD isn't particularly compelling with a disc such as this, it's probably worth the four dollar price differential between the two.
This latest installment stays true to the winning format of the
Classic Albums DVD series
. If you're a fan of
Damn the Torpedoes
, and have enjoyed some of the other videos in this series, you'll be sure to enjoy this excellent look into one of the finest rock albums of the last thirty years.
Recommended
Related: Tom Petty and The Heartbreakers -- Mojo 180 gram vinyl (w/bonus hi-res download)
Related: Best of 2008 Vinyl Releases: Mudcrutch--S/T, Mudcrutch Live!
Elvis Costello: This Year's Model -- 180 gram MOFI Vinyl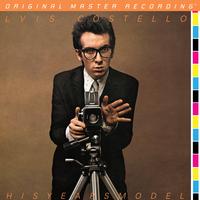 Mofi is back with
This Year's Model
, the 1978 follow-up to Elvis Costello's debut album,
My Aim is True
, which they reissued earlier this year on 180 gram vinyl.
This Year's Model
was recorded with what would become his legendary backing band, The Attractions. It offers more of the catchy hooks, cynical lyrics, and propulsive beat, that introduced him to the world with
My Aim is True
, but adds more keyboard and synthesizer, bringing him to the fore of the New Wave movement.
Mofi uses the U.K. artwork for this release, but utilizes the U.S. tracklisting, which adds the hit,
Radio, Radio
--but loses
Night Rally
and the ska-pop tune,
(I Don't Want to Go to) Chelsea.
The 180 gram vinyl arrived clean, flat and played quietly throughout. The gatefold cover, which is made of heavy cardstock, features the original artwork printed on the inner gatefold.
(Elvis Costello and The Attractions)
In preparing this review, I pulled out my George Peckham mastered "Porky Prime Cut" U.K Radar original vinyl for comparison. The Mofi vinyl, mastered by Shawn Britton, is more dynamic, has bigger bass, and has a fuller overall tonality compared to the original U.K. vinyl. Everything is smoother--and the trace of harshness that can sometimes be heard on the edge of Costello's vocals is gone on the Mofi--even at the end of the sides.
All of this adds up to a great sounding record, with some cuts on the Mofi, such as,
On the Beat
--with its ever-prominent bassline, and
Little Triggers--
with Costello's vocals displaying a new richness, clearly sounding better than the U.K. Still, I found myself preferring the original U.K. vinyl, both for the original tracklisting as well as for its upper midrange energy, which gives the music a drive and urgency that the Mofi eschews in favor of a fuller, smoother presentation.
Mofi has released a very good sounding version of this record. If you already have the original U.K. and are happy with it, this version isn't mandatory. However, if you've never quite been happy with the U.K.--or if your system tends towards leanness, this latest version might just be what you're looking for.
click image below
to order vinyl
Beck: Sea Change -- Mofi 180 gram vinyl
Although I've had the SACD of
Sea Change
for years, and listened to it a few times, it never hit me the way this vinyl pressing from Mofi has. The first thing I discovered listening to it, was that this isn't an album that can be listened to on your car stereo as you blast down the freeway.
Sea Change
begs to be listened to at night, in your listening chair--either alone or perhaps with one other person.
Sea Change
is a dark, even somber album. But, it isn't mere audiophile background music. The strings, guitar, piano, and vocals wash over you. Beck employs a vocal style that many will find a bit too monotone. But, given the wealth of subtlety and texture to the compositions, Beck's voice often acts more like an individual instrument--rather than the center of the song--and that monotone delivery can't help but further convey a sense of melancholy throughout.
Influences such as Elton John, Led Zeppelin, The Eagles, and the Beatles can be heard throughout this record. And the sonics are simply breathtaking. This Mofi vinyl mastering from Rob Loverde throws out an expansive soundstage that is both wide and extends far behind the speakers. Every bass string plucked, guitar strummed, or piano key hit, is reproduced with such realism that they seem to occupy their own space in the listening room.
(Beck, with The Flaming Lips)
Mofi continues to cement their repuation for very high quality control. The two discs of 180 gram vinyl arrived flat, clean, and played quietly throughout. The gatefold cover is made of heavy cardstock and contains the album's original artwork, complete with song lyrics. And while I can't guarantee that you'll like Beck, this is a reference audiophile record, the likes of Steely Dan's
Aja
, that begs to be noticed--and along with titles like Neil Young's
Live At Massey Hall
,
I believe it will continue to be reference vinyl material for years to come.
Highly Recommended
Music Matters Mono Blue Note 45 RPM Vinyl
Music Matters continues to set the standard for the ultra-premium 45 RPM jazz reissue, with monthly releases of incredible sounding reissues of the best of the Blue Note catalog. When the series was first introduced several years ago, Music Matters made sure to point out that, unlike some other Blue Note reissue campaigns, all of their releases would be in stereo unless only mono was available--or if there was something wrong with the stereo tapes. And in keeping with that promise, most--if not all of their releases for the first year or so were done in stereo.
While I've thoroughly enjoyed the stereo releases, I also believe that jazz can sound great in mono. And today, I'd like to point out two mono tites--one of which has been out for a while, that sound fantastic and should really be on your buy list. As always, both of these titles are cut at 45 RPM, pressed on 180 gram vinyl at R.T.I, and feature gorgeous, glossy gatefold covers made of extra-heavy cardstock, which feature beautiful session photos.
(Lee Morgan, 1957)
Lee Morgan: Vol. 3
Lee Morgan's third record for Blue Note, appropriately titled
Vol. 3
, is a hard bop date from 1957, featuring Morgan on trumpet, Benny Golson on tenor sax, Gigi Gryce on alto sax and flute, Charlie Persip on drums, and the crackerjack team of Wynton Kelly on piano and Paul Chambers on bass. All of the compositions were written and arranged by Benny Golson. And while none of the performances stand out as stone-cold classics, the performances are universally strong and the sonics are stellar.
The mono sound coming out of your speakers produces a big, pounding bass, and a deep soundstage that goes well beyond the back of your speakers. And what is most remarkable about this record, is the low level detail that allows the listener to easily hear the differences between the tenor and alto sax, and even the floor tom and the tom-toms. If you are a fan of mono jazz, be sure to place this on your want list.
Recommended
click image below
to go to Music Matters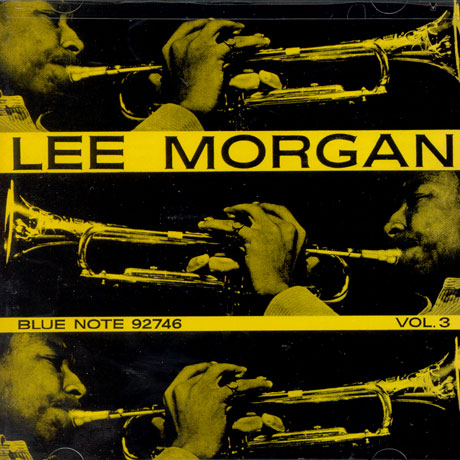 Kenny Dorham: 'Round About Midnight at The Cafe Bohemia
Music Matters has thus far released only one live date from the Blue Note catalog: Kenny Dorham's
'Round About Midnight at The Cafe Bohemia.
This live gem from 1956 was recorded in mono and is presented as such--and has received regular play in my listening room since its release one year ago. 'Round About Midnight brings you right into the smoky club atmosphere of the Cafe Bohemia--and this recording has so much ambiance, warmth, and depth of field, that you might just think it is in stereo once you spin it.
(J.R. Montrose, Kenny Dorham, 1956)
Dorham comes off as a very under-rated player, and leads the date, along with a stellar supporting group of musicians, including J.R. Montrose on tenor sax, Kenny Burrell on guitar, Sam Jones on bass, and Arthur Edgehill on drums. The date features a mixture of standards and originals, but after many years of listening to Monk's and Miles' versions of the title cut, I've really taken to Dorham's and consider that track alone to be worth the price of admission for this record.
'Round About Midnight has been out for about a year, so if you want it, you'd better pick it up soon--as many of the Music Matters titles have already gone out of print. Buy now or regret it later.
Highly Recommended
click image below
to go to Music Matters
Miles Davis: Someday My Prince Will Come --
Analogue Productions 45 RPM Vinyl
While not everyone's favorite title from Miles Davis,
Someday My Prince Will Come
has a strong contingent of fans. Released in 1961, after the departure of John Coltrane, but prior to the formation of his second classic quintet, this record features tenor saxophonist Hank Mobley on all of the tracks but one. Coltrane actually shares the tenor duties on one track and handles them alone on the track in which Mobley lays out. And despite what some feel is a muddling performance from Mobley, Davis still gives a strong performance--both with and without the use of the harmon mute, and is aided by the piano of Wynton Kelly and strong rhythm section of Jimmy Cobb (Philly Joe Jones plays on one track) and Paul Chambers.
(Hank Mobley)
This 45 RPM release from Analogue Productions was pressed by R.T.I, on two slabs of 180 gram vinyl. Both discs arrived clean, flat, and played quietly throughout. The unipack cover is made of regular weight cardstock and is the only disappointing part of the package. For a fifty-dollar record, the vinyl buyer deserves better--and AP has shown that they can deliver--take a look at their beautiful gatefold cover for their 45 RPM release of
A Love Supreme
.
This 45 RPM pressing of
Someday My Prince Will Come
was mastered by George Marino, at Sterling Mastering, and is the most detailed, dynamic, and transparent version of this music that I have ever heard. All of the emotion of Davis' horn comes through in ballads, such as the title cut, and details such as the squeak of a chair or the spit on the sax's reed are revealed with an increased clarity.
(Miles Davis and John Coltrane)
The original six-eye vinyl does have a bit of an advantage when listening to the performances where Davis employs his mute, as what seems to be a bit of tube compression in the original mastering softens what I sometimes find to be a bit-too-piercing tone. That said, numbers such as
Pfrancing
, where Davis plays without the mute, clearly benefit from the lack of any compression, and swing even harder than on the original six-eye. While this 45 RPM pressing is not absolutely essential if you already have a six-eye original, you will be rewarded with a more dynamic, detailed and transparent-sounding version. If you don't own a six-eye orignal and have had difficulty finding a clean one, this very nice sounding 45 RPM pressing is definitely for you.
Recommended