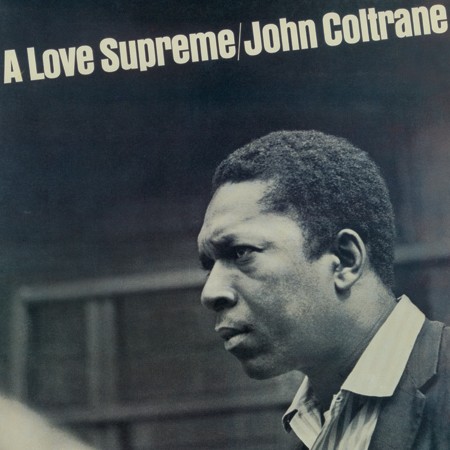 Nearly two years ago, when Analogue Productions first announced their upcoming 45 RPM Impulse Jazz Series, there were a myriad of questions about it: Who would do the mastering? Where would the vinyl be pressed? Which tapes would be used? Would there be gatefold covers? Now, after the first six titles have been released and most of those questions answered, Chad Kassem's Analogue Productions is about to release the most highly anticipated title of the series.
Originally released in 1965,
A Love Supreme,
consists of a composition written by John Coltrane containing four suites, and features his classic quartet, with Coltrane on tenor sax, McCoy Tyner on piano, Jimmy Garrison on bass, and Elvin Jones on drums. It has not only become Coltrane's career-defining album, but continues to be one of the most beloved and influential albums in all of jazz.
Packaging and Pressing
One of the first questions regarding the Impulse Reissue Series, was whether Analogue Productions would replicate the original laminated gatefold covers, which at the time of their release, were a hallmark of the Impulse brand. As with the first six titles in this series, Analogue Productions went out of its way to make sure they reproduced the cover correctly. The beautifully laminated gatefold is made of heavy cardstock, with Coltrane's message and his,
A Love Supreme
offering, in the inner gatefold. The two discs of 180 gram vinyl, housed in the poly-lined paper inner sleeves favored by the Pallas pressing facility, arrived flat and played without any significant issues to speak of.
Original Van Gelder-mastered Impulse stereo pressings of this record carry a prominent hum throughout each side, which is absent on the original mono as well any of the other subsequent stereo pressings. This 45 RPM issue, mastered and cut by Kevin Gray at Acoustech/RTI, is likewise without any hum. In preparation for this review, I listened to both the stereo and mono original orange and black label Impulse pressings, mastered by Rudy Van Gelder. I also listened to Kevin Gray's previous 33.3 RPM mastering of the record, released by Speakers Corner.
I confined my comparisons to the original mono and stereo Van Gelders, which have received the great majority of play over the years. As with previous reviews, my critical listening sessions were comprised of repeated listenings of each complete album, to get the overall vibe and feel of a record, rather than micro-analyzing a particular part of the composition over-and-over.
(John Coltrane, Alice Coltrane)
Mastering and Sound
For those who have listened to this record a lot over the years, this 45 RPM mastering is going to hit you over the head--and
hard
. From Elvin Jones' opening gong, to the final crescendo of
Psalm
, this 45 RPM pressing of
A Love Supreme
, is delivered with a degree of detail, and most of all dynamic range, that I haven't heard on any other version--vinyl or cd, of this album.
What you hear on this 45 RPM pressing of
A Love Supreme
is not in keeping with the Van Gelder originals. As has been Mr. Gray's custom with the Blue Note 45 RPM series (mastered in conjunction with his oft-partner, Steve Hoffman), it appears that no dynamic compression was used in this mastering--as it was on the Van Gelder-mastered originals. Furthermore, there is more low level detail, increased channel separation, and an even greater sense of depth of sound compared to original pressings of the record.
This increased detail and channel separation is immediately revealed in the opening suite:
Acknowledgement
, where the right channel shows off a great deal of detail, particularly in the cymbals. This increased detail, could initially be mistaken for excessive brightness, which it clearly isn't--there's simply more of Elvin Jones' cymbal work that made it onto the vinyl. That said, I suspect they would be a hair less prominent, had Gray been working in conjunction with his partner. Here, and for the duration of the record, the left channel is dominated by Coltrane--and the complexities and character of his horn are well-captured, whether he's playing smoothly or with a fierce squawk.
The increased dynamics really show themselves during the bass intro to
Resolution
, and the piano solo during the middle of the suite, really takes advantage of the 45 RPM format, with no distortion or harshness to speak of. Elvin Jones' drum work at the beginning of
Pursuance
, sounds particularly realistic--as does the bass solo and light cymbal and drum flourishes, which again, serve to highlight the fantastic dynamics of this 45 RPM pressing. Finally, the typani really shakes the room during the closing suite,
Psalm
, and during the final crescendo, all of the players hold together magnificently, allowing the listener to really turn it up loud if desired, without any hint of distortion or breakup.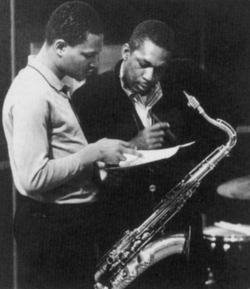 (McCoy Tyner, John Coltrane)
Summary
This is really an excellent mastering by Kevin Gray, fully taking advantage of the 45 RPM format, with greatly increased dynamics and channel separation, deeper depth of sound, and increased low level detail. For those who have the original Van Gelder sound burned into their psyche, it may take a bit of getting used to--as the compression used on the originals
did
give a sense of cohesion to the performance that isn't on the 45--and apparently isn't on the tapes either. That said, if cohesion is what I want to hear, my preference lies with the mono version of this record anyway--fold-down or not.
My only real issue with this 45 RPM effort is inherent in the format, not the mastering. Splitting a composition such as this between four sides, does detract from its dramatic effect when you have to get up between each and every suite--and I suppose more than a few listeners will "needledrop" this recording to remedy that very issue. That minor quibble aside, this 45 RPM pressing brings you closer than ever to Van Gelder's studio in 1964, when Coltrane and his Quartet created magic. And that's something that every serious fan of this recording will want to have.
Highly Recommended
Related Reviews:
John Coltrane: Live at the Village Vanguard 45 RPM 180 gram vinyl
John Coltrane: Giant Steps 45 RPM 180 gram Rhino vinyl