In 1962, Impulse Records released John Coltrane's
Live at the Village Vanguard
. Taken from the now legendary November 1961 sessions at the Village Vanguard in New York, this release was a glimpse of what was to come for Coltrane in later years with works such as
A Love Supreme
, and his foray into free jazz.
The Recording
Live at the Village Vanguard features three cuts from the now famous dates: two Coltrane originals, and one cover of a Romberg-Hammerstein standard. In addition to pianist McCoy Tyner, bassist Reggie Workman, and drummer Elvin Jones, Eric Dolphy is featured on bass clarinet on the first cut,
Spiritual
. In a departure from his usual tenor, Coltrane plays the soprano saxophone on this, as well as the final number,
Chasin the Trane
.
Spiritual
opens the record and plays like an epic story, forshadowing what would come later with
A Love Supreme
. Coltrane opens the song mysteriously, then really swings before coming to a climax, then winding down before ending with a brilliant coda. Eric Dolphy's playing is an absolute treat--he comes off as if he's been a long time member of the band rather than a featured guest, and the interplay between his bass clarinet and the higher register of Coltrane's soprano sax is simply sublime.
Softly as in a Morning Sunrise
, while a fine example of this quartet's playing, comes off as a bit of a compromise with the record company, which more than likely wanted at least one standard included to help sell the record. It doesn't quite fit in with the epic
Spiritual
, or the extended, free form
Chasin the Trane
.
On
Chasin the Trane
, Coltrane goes back to his tenor, which he works for most of the sixteen-minute performance. This early example of improvised, free jazz evokes a mood, draws you in, and brings you right into the club on the November night in 1961 when it was recorded--this is the most "live" of the three numbers found on the record.
Original Recordings Group 45 RPM 180 gram set
The Original Recordings Group (ORG) has released
Live at the Village Vanguard
as part of their Ultimate Edition 45 RPM series, which will be limited to 1000 copies per title. This two-disc, 180 gram vinyl set was pressed at the Pallas facility in Germany. Pallas is known for ultra-high quality vinyl pressings and this record is no exception. The discs, which are housed in premium poly-lined paper sleeves, were both flat, clean, and were virtually noise-free during playback. Unlike some of the pressings that have come out of what appears to be an overstretched R.T.I. facility, I cannot recall the last time a vinyl pressing from Pallas was less than perfect.
With the arrival of Music Matters into the ultra-premium jazz reissue game, the ante has clearly been upped in the area of packaging. ORG has met the challenge by creating an oversized, super-glossy gatefold cover made from extra-heavy card stock, which is even nicer than the original Impulse. Each copy is individually numbered on the back cover.
photo inside gatefold
The Sound
In preparation for this review, I listened to three different compact disc releases (original Impulse, '97 Master Takes, '07 Impulse Box), and although I don't have the original orange and black Impulse vinyl, I have a late-Seventies green label ABC/Impulse reissue, which I used for the majority of my comparisons with the ORG 45 RPM edition. The cds varied from the sometimes overly polite original Impulse, to the compressed-sounding '97 remaster, with the '07 remaster straddling the middle ground.
The ABC vinyl is a very nice sounding record, with a surprisingly warm, tubey tonal balance, if sounding a bit veiled at times. The majority of the recording features a fairly extreme left-right balance, with Coltrane and the majority of the action taking place in the left speaker--so much that it was tempting at times to depress the mono button on my phono stage.
Coltrane's sax sounds rich and mellow throughout most of the ABC pressing, with his tone coming across as a bit homogeneous. The piano has a tendency to become distorted at times, particularly during Tyner's extended solo during
Spiritual
and during the intro to
Softly as in a Morning Sunrise
. Jones' drums sound natural, if at times getting lost in the mix, and the cymbal sound is quite natural as well, though sometimes lacking presence.
The only significant deficiency of the ABC pressing is the tone of Eric Dolphy's bass clarinet, which comes across with a singular voice, rather than the complex, multi-layered delivery he actually gave. All in all, despite sounding a bit veiled at times, the ABC/Impulse is a very satisfying alternative, and a particularly nice choice for those who have a forward or bright sounding system, or want a more relaxed-sounding version of this classic title.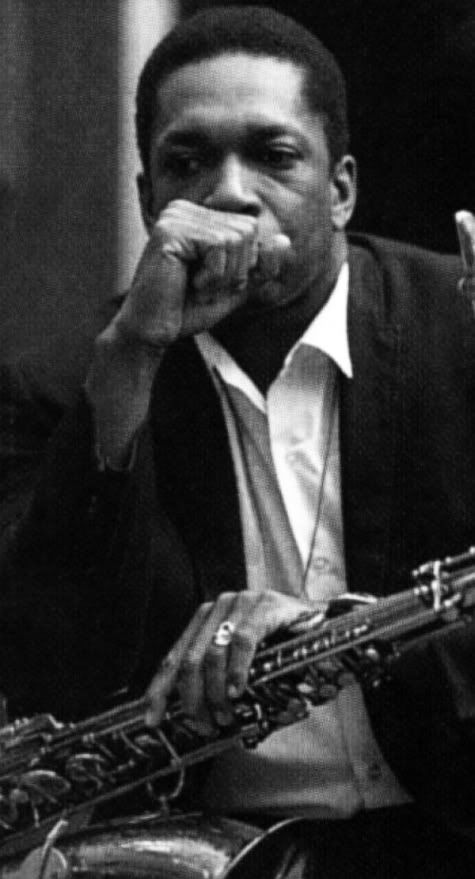 The ORG 45 RPM set was mastered by Bernie Grundman, and as soon as you drop the needle on
Spiritual
, you can hear a significant difference between it and the ABC pressing. While the mix is still primarily left of center, the ORG comes across sounding a bit more centered. As with most of the jazz I have listened to that is cut at 45 RPM, there is significantly more weight and definition to the drums. The soundstage of the ORG is wider and extends farther behind the speakers, there is more shimmer to the cymbals, and there is more color, character, and squawk to Coltrane's horns.
Compared to the ABC vinyl and even more so the cds, the ORG swings more, has more air around the instruments and has more room ambiance. But, the most startling improvement in this 45 RPM set is Dolphy's bass clarinet on
Spiritual
, which is heard with more clarity, complexity, and dynamics than on any of the other versions I have listened to.
This set exhibits what one would expect from a 45 RPM set mastered by Bernie Grundman. It is more dynamic, and the format allows all of the musical elements to come together at the same time, with faster transients and less overall distortion. There is simply more detail to be heard on this pressing, and some might find the detail to be a bit overbearing at times, especially in the top end, which is particularly active during
Chasin the Trane
.
Interestingly enough, it can be inferred that Grundman actually tamed the highs when he mastered
Chasin the Trane
, as the fourth side contains what is described as a "No-EQ" version of the performance. "The No-EQ" version has even more top-end energy in the cymbals, which I found to be distracting at times. My remedy for this, was to give in to my earlier inclination to depress the mono switch, which usually has the unwanted effect of rolling off high frequencies, but in this instance, made an excessively bright mastering just right for my mono experiment. For those who have a mono switch on your preamp, I highly recommend experimenting with it on this album, as it makes for an interesting alternative listening experience.
The Original Recording Group has entered an increasingly crowded field of ultra-premium jazz reissues and has come out with an extremely well-pressed, beautifully packaged, and extremely well-mastered offering. Bernie Grundman has shown that he can produce an excellent sounding record from what may not be the original mastertape. He has also proven it possible to fit sixteen minutes of music on one 45 RPM side, without sonic compromises, which bodes well for another very well-known and upcoming 45 RPM release from this same artist.
If this record is among your favorites and you don't have a near mint original--or, if you want to hear it with all of the increased dynamics and detail that 45 RPM vinyl can bring, you should really consider picking this one up before it goes out of print. Unless you are sensitive to high frequencies, or have a particularly forward or bright-sounding system to begin with,
I cannot imagine this recording sounding much better.
Highly Recommended
buy from
music direct