Nearly thirty years ago, The Clash released their third record,
London Calling
. Far more than a typical punk rock expression of rage and discontent,
London Calling
conveyed political and social messages through well-crafted, intelligent songwriting mated to a multitude of flavors. Ska, reggae, rockabilly, as well as punk influences are to be found on the record. Not surprisingjy,
London Calling
is consistently found at or near the top of most
best album
lists.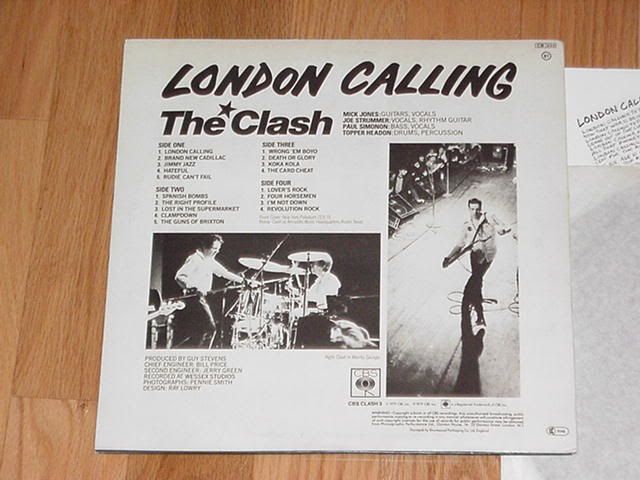 London Calling
U.K. back cover
Released by CBS in the U.K. on December 14, 1979, and several weeks later by Epic in the U.S.,
London Calling
came as a specially priced 2 LP set in a non-gatefold
unipack
cover. U.K. copies can be distinguished by "Clash 3"
appearing on the cover's spine, as well as on the white-colored record label. In addition to the eighteen listed tracks, both the U.S. and U.K. releases contained a final "hidden" track,
Train in Vain
, which ironically went on to become the only U.S. hit from the album.
While
London Calling
never achieved commercial success comprable to their later 1982 effort,
Combat Rock
, it remains a fan favorite to this day, and a title most any record collector would want in his collection.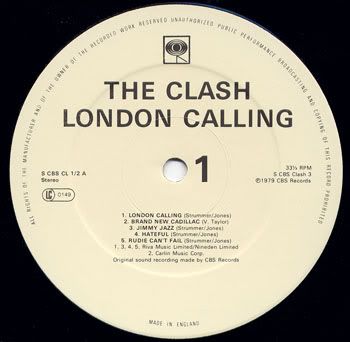 London Calling
U.K. CBS label
The original
London Calling
U.S. Epic vinyl never sounded very good. Heavy on the highs and upper mids, and almost totally lacking any significant bottom end, the Epic vinyl sounds as if the original tapes never made it across the Atlantic.
The U.K. CBS vinyl, on the other hand, sounds fantastic. Smoother, punchier, with a nice bottom end, the U.K. vinyl fills in the lower mids and bottom end absent from the U.S. release. Vocals sound fulller, guitars punchier, and bass lines stronger. Despite the smoother sound, the recording retains its punk attitude and never sounds polite. The fuller lower mids really add character to the vocals; the lead vocal, for example, in
Spanish Bombs
has a richness absent from the Epic vinyl. The bassline in the title track propels the song forward with an authority that simply isn't heard on other versions of the record.
If you are a fan of this record, the U.K. CBS vinyl really is essential. Copies show up fairly regularly on Ebay, both from U.K. as well as U.S. sellers. Pick one up and hear the album for the first time all over again.
Highly Recommended