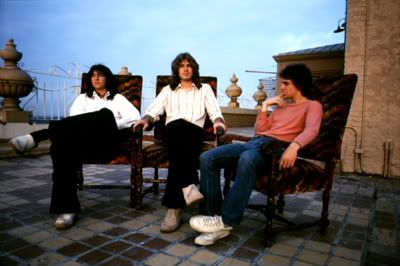 (Andy Hummel, Jody Stephens, Alex Chilton--at the Peabody Hotel, Memphis; photo courtesy of Eggleston Trust)
ALEX AND BOB / Bruce Eaton
One night a few days after Alex passed away, I was sort of adrift for a book to read (nightly ritual – a half hour of reading before turning out the light), and pulled out the Jonathon Cott compilation of Bob Dylan interviews. A lot of the interviewers noted that although Bob had the reputation as being quite the difficult interviewee, if you asked him about subjects that he felt like talking about, he was quite the opposite. That's pretty much the way it was with Alex and it reminded me of some notes I had buried away for a possible sidebar in my book
that I had shelved early on: an imaginary scenario in which Bob Dylan ended up with Alex Chilton's career path. I haven't changed it much other than a little editing, and I'm not really sure why the idea hit me in the first place. But it was fun to put together (readers…feel free to add your own twists--it's good fodder for a barroom conversation), and underneath it all I knew there was a point: that Bob and Alex were a lot a like in some ways--only the circumstances of how their careers unfolded were different. If Bob's monumental records in the mid-60's had bombed, he might have easily followed the Chilton trail . . .
Imagine this scenario . . . Elston Gunn and The Rock Boppers, Bob Dylan's high school rock and roll band, lands a record deal and scores several hit singles for an independent label. The band tours relentlessly on the teen concert circuit but makes little money. Bob doesn't really care that much at the time . . . he's seeing the world. It's all an adventure. Even the encounter with some guy, Starkweather. After the Rock Boppers break up, Bob heads to Greenwich Village to soak up the folk scene and expand his musical horizons. But the folkies are being pushed aside by the ever-expanding legions of rockers, and and part of Bob still wants to be in a real rock band, not just a teen combo. On a trip back home to northern Minnesota he encounters a group of scruffy Canadians that he knows from the touring circuit. They've already started writing their own songs, and invite Bob to come to a rehearsal in a pink house outside Duluth. Bob digs what he hears and after hearing a few of Bob's new songs, the band invites him to join.
The group starts to record, and almost before they know it, they're signed by BeeWay records out of Chicago. BeeWay records mostly black artists--soul, blues, gospel--but Bob and the band (now known as Big Band--one night they walked out of the studio and the sign at the jazz club across the street read "Tonight. Big Band."), don't care. They like the vibe and the people who run BeeWay. But things don't work out as planned. BeeWay has no idea how to promote them to the hippie rock market. Their first album, Music From The Basement Tapes, gets some great reviews but doesn't chart. Willie Williamson, the co-founder of Big Band and major songwriter besides Bob quits, crushed by the disappoinment. Now more or less fronting the group on his own, Bob leads them through recording a blazing follow-up: The Blonde On Highway 61. That album dies faster than the first release. The group is now splintering and Bob throws together a third, and very different, album: Self-Portrait of John Wesley Harding. It stays in the vaults for years, unreleased. But gradually, all the Big Band music is heard. It's said that every person who owns a Big Band album starts a band. Big Band becomes an underground legend and Bob Dylan is a reluctant cult hero.
(Alex Chilton, at McVan's Buffalo on 6/23/79;
previously unpublished photo courtesy of Bruce Eaton)
After a few years off the radar screen, Bob returns to performing as a solo artist playing whatever the hell he feels like playing. Adoring Big Band fans will sometimes get renditions of I Shall Be Released or Like A Rolling Stone tossed into the setlist. But mostly they get to hear the music Bob loves: obscure rock and roll tunes from the Fifties, folk music classics, blues nuggets rarely heard outside Chicago, juke box country and western hits, and maybe a song by Frank Sinatra or Count Basie. Just to confound his audience, he might even toss in a tune by Neil Young or even the Rolling Stones. He doesn't worry about record sales anymore. He's just out on the road making a living, heading to another joint. The Neverending Tour. People love to share tales of prickly behavior, but underneath the sometimes off-putting defense is a warm and gentlemanly soul. It's not easy being Bob Dylan, but he ages gracefully. A worldy and intelligent man following his own path in life. And just when it seems like he still has miles ahead, he's gone.
Bruce Eaton is a writer, consultant, and jazz concert producer, living outside Buffalo, New York. He is the author of Radio City (33 1/3)
, the acclaimed book on Big Star and the recording of their second album, Radio City. You can read more of Bruce's musings at his blog: Big Star's Radio City.
MEMORIES OF ALEX / Bobby Sutliff
I suppose I should start at the beginning. I was at a party thrown by my friend Paul Canzoneri in 1975 or so. He had a mix tape playing pretty loudly. At some point, September Gurls by Big Star came on. I was dumbfounded to say the least. I had read about Big Star in Phonograph Record magazine, but their records were extremely hard to find. Paul loaned me both of their records and I made cassettes of both. I wound up buying copies of both albums from some mail order place in NYC (still have them to this day), and spent the next several years trying to figure out their secret. To this day, I'll read some review of this or that power pop record which mentions that the band in question "sounds like Big Star". In my estimation, no one else has ever sounded like Big Star--and God knows I've tried myself.
In 1978, my best friend John Thomas and I drove the 200 miles from Jackson MS to Memphis to see neo rockabilly singer Robert Gordon perform at a club. It was quite the momentous evening. First, I got to see Brit guitarist Chris Spedding play amazing stuff with Gordon. Then, I noticed Jerry Lee Lewis sitting at the table next to us. He was sitting with four blondes, and had an empty bottle of Tequila in front of him. I cautiously asked him for his autograph, which I still have - "to Bob - you mother you".
When the Robert Gordon show was over, a Memphis friend of John's mentioned Alex Chilton was playing at a club nearby called The Well. We immediately drove over there and caught most of a set by an early version of Panther Burns. There were maybe fifteen people in the club, and Alex was obviously feeling no pain. After their set we chatted with him for awhile and he seemed delighted to meet us. I didn't meet him again for several years. Around 1983 or so, Panther Burns came to Jackson to play 2 nights. I was playing guitar with the opening band, Jackson's great punk band The Used Goods. We were onstage setting up the drums and amps when Tav and Alex walked in. Alex came up to check the set up and I asked him if he wanted to use my Memory Man delay unit. He was delighted at that, and I got to know him pretty well that weekend. By the mid 80's he was touring pretty regularly with his trio, and I got to see him fairly often, usually getting to catch up with him.
Around 1986, I was at Jackson's infamous WC Dons club--a truly ramshackle dump that hosted many wonderful shows. I was talking to Alex before he went on, and asked him if he ever played Way Out West
live. He told me he used to play it in NYC in the Seventies, but that his trio didn't know it. They played a fun show, and when they came back to do the encore, he mentioned he was going to bring a friend up to sing a song. He then called me up which was news to me. So I sang it, while he taught it to the band. It was a very surreal night for me.
After another show some time later, he came back to my place and rifled through my vinyl collection. He pulled out Love You by the Beach Boys, and wanted to know why I even owned that piece of crap. I said "screw you Chilton - it's a great record". He then put it on my Phillips turntable, picked up my acoustic and played along with every song - perfectly. When he had played both sides, he informed me it was his favorite Beach Boys album. The last time I saw him was in 1991 when my band, The Windbreakers, opened for him at Maxwell's in Hoboken NJ. We had both gotten copies of the Ryko Chris Bell cd and he was very jazzed about it. He went so far as to say I Am The Cosmos was the best Big Star associated song ever. Yeah, it's a great tune but there a few I think might be better.
Bobby Sutliff
is a musician and craftsman of handmade guitars, and is well known among fans of power pop as one-half of the famed duo, The Windbreakers
. He began a solo career in 1986, and has released at least seven albums, including the critically acclaimed, Perfect Dream
(2003).