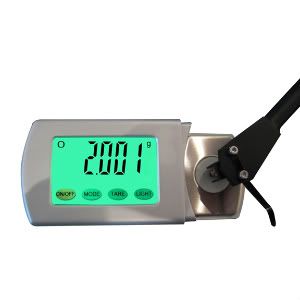 Myvinylreview
debuts a new feature today,
Analog Accessory Review
. I've chosen to review a digital tracking force scale because it's one of the most useful tools in keeping your vinyl rig sounding its best. Despite that fact, many of us have never acquired one because of the prohibitively high cost. At only $80, this scale from Audio Additives, finally puts one within the reach of any audiophile.
The Audio Additives Digital Stylus Force Gauge is sold via the online audiophile website,
Music Direct
. The first unit I received was unfortunately DOA--however, the second unit arrived double-boxed, and worked without a hitch. Made in China, this scale is made of metal and feels quite substantial. It is housed in a padded jewelry-style case, complete with a small screwdriver to install the included batteries, as well as a five-gram calibration weight. The large, easy to read, digital readout allows the user to toggle between grams, ounces, carats, and dwt. This scale also has a taring feature, which isn't really applicable in the measuring of tracking force. Using the five-gram calibration weight consistently returned results accurate within two one-thousandths of a gram.
I tested the real world performance of the Audio Additives as a tracking force scale, by using it to measure the tracking force of my own cartridge. I recently had my local dealer set my cartridge's tracking force at 1.90 grams. The Audio Additives scale measures to three decimal places, or to the thousandth of a gram. When I used it to measure the tracking force of my cartridge, I consistently received readings within a few thousanths of 2.000 grams from the Audio Additives scale. I determined that the additional .1 gram of measured weight can be attributed to the height of its platform, which is a bit higher than is optimal for this application.
I compared the Audio Additives scale to the $799
Winds Arm Load Meter ALM-01
, which has real time calibration, and which consistently returned readings that were .1 gram less than the Audio Additives scale. Going back to the Audio Additives scale, I was able to compensate for the increased platform height by removing the foam mat on my turntable. Doing so, resulted in consistent readings within a few thousanths of the correct tracking force of 1.900 grams. This appears to be the only issue with the usability of this scale--and depending upon the thickness of your mat, you may or may not be able to use the trick I discovered. Otherwise, you should be able to be confident that the readings you receive will be very close to .1 gram over the actual tracking force.
It appears that this scale sourced from China may have originally been made for some other purpose, such as weighing jewelry--rather than specifically as a stylus force gauge. While it isn't perfect, it is the only such scale that I know of that measures to the thousandth of a gram, that is also so reasonably priced. At $79.99, it is just over twice the cost of the clunky Shure balance beam tracking force scale, which is not only difficult to use, but isn't nearly as accurate. If you're comfortable with subtracting .1 grams from the reading--or, if you can fashion your own work around, such as removing your mat, and you don't already own your own digital scale--you should definitely consider picking up this very affordable option from Audio Additives and
Music Direct
.
Recommended
click image below to
order from Music Direct