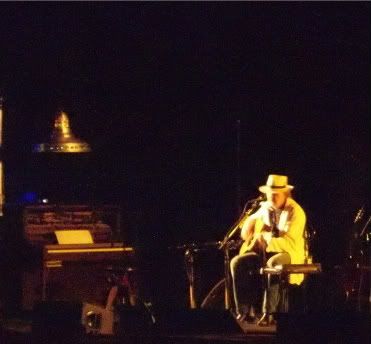 Nearly forty years ago, when Neil Young took the stage at
Massey Hall
, Toronto, he announced to the crowd that night that he was going to play almost all new songs. Many of those new songs would go on to take their place in the Neil Young pantheon. On Wednesday night, Young played his third and final Bay Area show at the Fox Theater in Oakland, California.
Nearly 2,500 lucky fans were treated to a ninety-minute set, half of which consisted of songs from that pantheon--the other half, brand new compositions.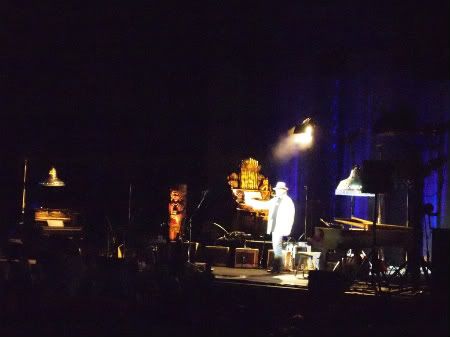 (Neil Young takes the stage, Fox Theater, Oakland)
The rock and roll legend took the stage at 9:20 p.m., following an opening set from the Scottish folk singer,
Bert Jansch
, whose performance left a mostly indifferent crowd a bit restless. He launched right into acoustic guitar renditions of a trio of some of his most beloved songs,
My My, Hey Hey
,
Tell Me Why
, and
Helpless
. Young sounded great and his voice and guitar rang throughout the entire theater. If you haven't been to the
Fox Theater
, it really is a beautiful venue--and has great acoustics, particularly on non-electric numbers.
For the remainder of the night, Young alternated between new compositions and classics, often putting a new spin on the familiar, such as his rendition of
After the Gold Rush
, on pipe organ and harmonica. Young made his way around the stage, going from acoustic guitar, to either of his two electric guitars, to the upright piano, the baby grand, or the pipe organ. And if some of the crowd might have been happier hearing an all-acoustic night, Young was at his most animated as he played either of his electrics through a lineup of small vintage Fender tweed amps, genuinely appearing to enjoy himself as he led the crowd through the extended coda of
Cinnamon Girl
.
(Neil Young with guitar, onstage at the Fox Theater--Oakland, CA)
As Neil Young nears the end of this solo tour, those who have managed to see him--still in very fine form, will undoubtedly consider themselves lucky. If you still have the opportunity to go, the set list has changed very little throughout the tour. Ninety minutes isn't a long show--and half of the songs are unknown. Nonetheless, Young can't be accused of being lazy--as it is clear that the show and arrangements have been very well thought out. And when you leave the theater, if you are truly disappointed that you didn't hear
Old Man
, you can always put on your LP or Cd of
Live At Massey Hall
, and have that encore right in your own living room.
Highly Recommended
Information on the remaining shows, can be found here:
Neil Young Tour Dates
.
Related:
Neil Young Official Release Series 1-4 vinyl
Related
:
Neil Young: Sugar Mountain--Live at Canterbury House 200 gram vinyl
Related: Neil Young: Live at the Fillmore East, Live at Massey Hall vinyl