Music Matters continues to set the standard for the ultra-premium 45 RPM jazz reissue, with monthly releases of incredible sounding reissues of the best of the Blue Note catalog. When the series was first introduced several years ago, Music Matters made sure to point out that, unlike some other Blue Note reissue campaigns, all of their releases would be in stereo unless only mono was available--or if there was something wrong with the stereo tapes. And in keeping with that promise, most--if not all of their releases for the first year or so were done in stereo.
While I've thoroughly enjoyed the stereo releases, I also believe that jazz can sound great in mono. And today, I'd like to point out two mono tites--one of which has been out for a while, that sound fantastic and should really be on your buy list. As always, both of these titles are cut at 45 RPM, pressed on 180 gram vinyl at R.T.I, and feature gorgeous, glossy gatefold covers made of extra-heavy cardstock, which feature beautiful session photos.
(Lee Morgan, 1957)
Lee Morgan's third record for Blue Note, appropriately titled Vol. 3, is a hard bop date from 1957, featuring Morgan on trumpet, Benny Golson on tenor sax, Gigi Gryce on alto sax and flute, Charlie Persip on drums, and the crackerjack team of Wynton Kelly on piano and Paul Chambers on bass. All of the compositions were written and arranged by Benny Golson. And while none of the performances stand out as stone-cold classics, the performances are universally strong and the sonics are stellar.
The mono sound coming out of your speakers produces a big, pounding bass, and a deep soundstage that goes well beyond the back of your speakers. And what is most remarkable about this record, is the low level detail that allows the listener to easily hear the differences between the tenor and alto sax, and even the floor tom and the tom-toms. If you are a fan of mono jazz, be sure to place this on your want list.
Recommended
click image below
to go to Music Matters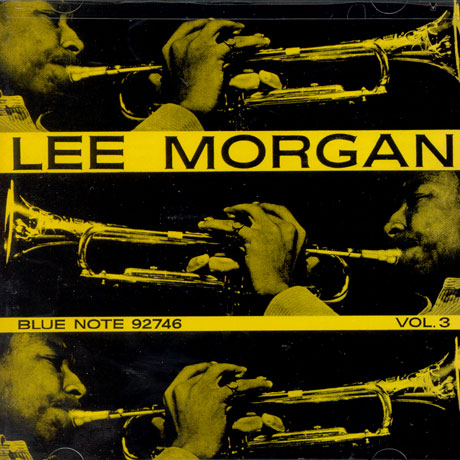 Music Matters has thus far released only one live date from the Blue Note catalog: Kenny Dorham's
'Round About Midnight at The Cafe Bohemia.
This live gem from 1956 was recorded in mono and is presented as such--and has received regular play in my listening room since its release one year ago. 'Round About Midnight brings you right into the smoky club atmosphere of the Cafe Bohemia--and this recording has so much ambiance, warmth, and depth of field, that you might just think it is in stereo once you spin it.
(J.R. Montrose, Kenny Dorham, 1956)
Dorham comes off as a very under-rated player, and leads the date, along with a stellar supporting group of musicians, including J.R. Montrose on tenor sax, Kenny Burrell on guitar, Sam Jones on bass, and Arthur Edgehill on drums. The date features a mixture of standards and originals, but after many years of listening to Monk's and Miles' versions of the title cut, I've really taken to Dorham's and consider that track alone to be worth the price of admission for this record.
'Round About Midnight has been out for about a year, so if you want it, you'd better pick it up soon--as many of the Music Matters titles have already gone out of print. Buy now or regret it later.
Highly Recommended
click image below
to go to Music Matters