As part of the
Neil Young Archives
reissue campaign that started with the Performance Series releases of
Live at the Fillmore East
,
Live at Massey Hall
, and
Sugar Mountain

: Live at Canterbury House
, Reprise continues with reissues of Young's first four albums on vinyl.
Each of the first four titles are available either individually on regular weight 140 gram vinyl or in a limited edition numbered boxset containing all four titles on 180 gram vinyl (available exclusively through
NeilYoung.com
and
BecauseSoundMatters.com
). For this review, I compared each of the 140 gram versions to early original U.S. pressings as well as a few of my favorite imports and reissues.
The mastering duties for each of these titles were undertaken by Chris Bellman, of Bernie Grundman Mastering. Bellman, who mastered Neil Young's
Greatest Hits
vinyl, as well as each of the live Performance Series titles for vinyl, is by now well acquainted with Young's work, and was a natural choice for this undertaking. He went back to the original analog master tapes for each title.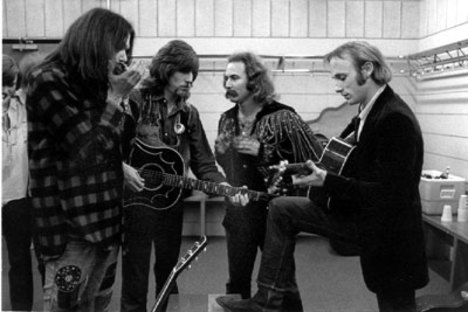 (Neil Young, Graham Nash, David Crosby, Stephen Stills)
The 140 gram vinyl was pressed at the Pallas facility in Germany, which is well known for producing ultra-premium vinyl pressings that are flat, clean, and are virtually silent during playback. While all of the vinyl I've seen recently from Pallas has been of the 180 gram variety, they've pressed 140 gram regular weight vinyl for each of these four titles, which is reflected in a list price for these reissues of roughly ten dollars less than the typical Pallas 180 gram release.
Fortunately, despite the less than premium price, Warner did not skimp on the packaging. The gatefold covers are made of heavy cardstock and are faithful to the originals, down to the original inserts. Curiously,
Harvest
carries an additional ten dollar premium, presumably because of the textured cardboard cover and insert. The 140 gram vinyl is housed in plain paper sleeves, a departure from the poly-lined paper inners typically used by Pallas for their 180 gram offerings.
Despite the inferior inner sleeves and lighter weight vinyl, three of the four sealed titles I received were perfectly flat, free of marks, and played quietly. One of the titles had a minor warp and suffered from some intermittent surface noise, which mostly went away after a quick vaccum cleaning.
Most importantly, all of these titles have very good to outstanding sound. They are highly detailed, with well-balanced EQ, quiet surfaces--and unlike many original pressings, they suffer from little to no harshness or distortion, even within the inner grooves.
Neil Young's self-titled debut album was originally released in November of 1968. It stalled right out of the gate, received mixed reviews, and possessed a wonky sound that resulted primarily from over-processing during mastering. The record was re-mixed and remastered, and again released in 1969--this time with "Neil Young" prominently displayed on the front cover.
Despite sounding better than the initial mix,
Neil Young
has never been one of his better sounding titles and has cried out for remastering more than any of the other initial titles in this series. This reissue uses the original cover (
sans
his name), but uses the re-mixed tapes as the source. I'm very happy to report that Chris Bellman has done a stellar job on this one. Warm guitars and strings, aggressive fuzz-tone guitar, and none of the grain, harshness or distortion often present on other pressings of this album.
(Neil Young, 1969)
From the opening instrumental charm of
The Emperor of Wyoming,
to the fuzz-toned urgency of
The Loner
and
I've Been Waiting for You,
to the haunting background vocals of
The Old Laughing Lady
(that would later influence groups such as Pink Floyd), this album actually makes for a compelling listen. Having aged better than one might expect, only the Byrdsian,
If I Could Have Her Tonight
, clearly shows its age.
In addition to uncovering additional detail, Bellman kept the EQ on the warm side, and the predominance of vocals, acoustic guitars and strings seem to play better because of it.
Never a touch of harshness or distortion, this remastering represents the best I have ever heard this album sound, and it is essential for any fan of Mr. Young.
Highly Recommended
To me,
Everybody Knows This is Nowhere
, is one of Neil Young's most forthright and consistent efforts--though admittedly, I'm more emotionally connected to this album than any other in his vast catalog. Ever since a college roommate turned me on to it nearly twenty-five years ago, it has been a favorite, from the crunchy chords and one note solo of
Cinnamon Gir
l, to the honky tonk flavored title cut, to the twin epics
Down By the River
and
Cowgirl in the Sand
. There just isn't a bad note on the record.
Bellman turns out a nice, well-balanced mastering job that just misses the very best early pressings of this album, which are just a bit warmer, if also a bit less detailed. And this isn't to say that Bellman's effort is bright--just not quite as warm as the U.S. originals--and the warmer character really suits the mood of epics like
Cowgirl
and
Down by the River
.
If this is your
favorite
Neil Young record, you owe it to yourself to find a copy with (1a, 1a) stampers, which are not only found on the original two-tone
label copies, but can also be found on some early tan label pressings as well. That said, if you've tried in vain to find a clean original or just don't relish the hassle, you'll be more than happy with this fine reissue.
Recommended
Young's 1970 release
, After the Goldrush
features some of the more startling differences so far in this vinyl remastering series. Young's vocals, along with those backing him are more present and occupy their own space in a way that just isn't heard on any other version of this title--listen to the title cut, and you'll immediately hear Young's vibrato with a clarity you haven't before experienced. Frankly, this reissue is worth it for that song alone.
After the Goldrush
inner gatefold
Along with the additional detail, however, comes an EQ that is a bit brighter than what is found on my preferred copy of this record--a UK pressing that possesses a characteristically British EQ favoring the lower-mids over the upper-mids and highs. But, really I'm splitting hairs and at this point it comes down to personal preference.
The fact is, that this new vinyl remastering from Chris Bellman is as good or better than the best U.S. pressings I've heard.
Recommended
(Neil Young)
Released in 1972,
Harvest
was Neil Young's most commercially sucessful effort, earning a number one position on the album charts, as well as reaching number one with the single,
Heart of Gold
. While it has some great material, much of
Harvest
has been overplayed on commercial radio for years. And time hasn't been particularly kind to the orchestral arrangements, which can sound dreadfully dated. Still, songs like
Out on the Weekend
,
and especially
The Needle and the Damage Done
and
Old Man
, make the album absolutely essential and worth revisiting.
The primary difference between this reissue mastered by Chris Bellman and previous issues of this record is that you will find this latest incarnation to be quiet and cleaner sounding, without the harshness and distortion that can often hamper the orchestral arrangements and electric songs on the album. Whether that distortion has been due to the mastering, vinyl quality, or the fact that people played this record
a lot
, I can't be sure.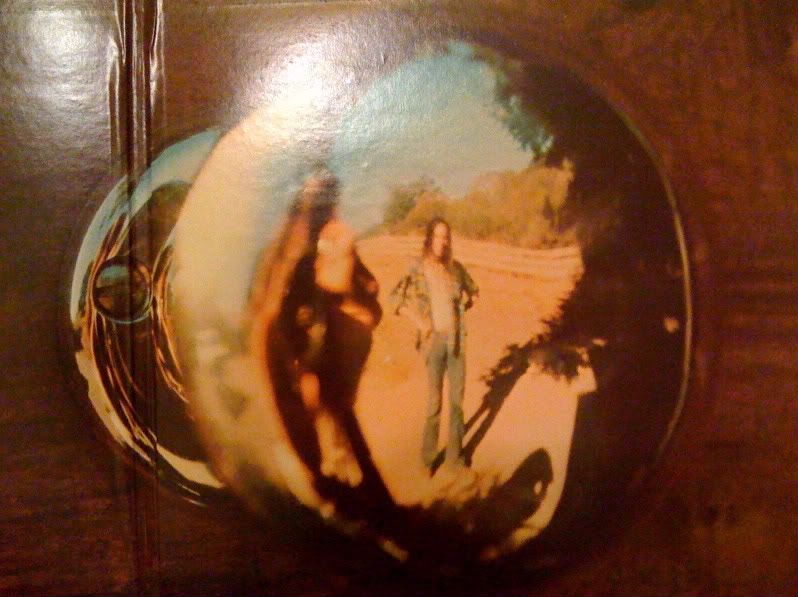 (Harvest
inner gatefold)
And while the cleaner sound definitely is an improvement when it comes to the more complex compositions, I'm not so sure that's the case with the simpler acoustic numbers such as
Old Man
and
Needle
. I listened to those songs over and over for this review, and despite the greater detail, there was just something missing in this latest reissue, compared to the original and even the late Seventies reissue. I could say that there was less "air" or "ambiance," but there simply seems to be an emotional component of the music that has been lost with the increased detail.
Whether you pick up this latest reissue should come down to how badly you want a noise-free copy. If you're like me and have had difficulty finding a really quiet copy of this title, you'll want this reissue. Just make sure to hold onto your original.
Recommended
Related Reviews:
Click here for the review of

Sugar Mountain: Live at Canterbury House Vinyl
Click here for the review of

Live at Fillmore

East and

Live at Massey Hall Vinyl