I've just returned from the Consumer Electronics Show in Las Vegas and the most exciting news I have to share isn't a new set of speakers, a fantastic turntable, or even of a new series of audiophile pressings from a yet-to-be remastered artist. Last week, I finally saw Cirque Du Soleil's production of
The Beatles Love
at
The Mirage, Las Vegas
, and it was well worth the wait--and without question, the highlight of my trip.
In 1979, just beginning my teenage years, I went to see
Beatlemania
with a few friends. For the most part, I was underwhelmed, and have since been mostly skeptical of any effort showcasing The Beatles. Now, thirty years later, I wasn't expecting to be truly blown away by how good this show would be--I enjoyed it so much, I went back to see it a second time the very next evening.
I don't want to disclose too much about it other to say that the whole experience is an absolutely thrilling delight of sight and sound. If you're a fan of The Beatles, you're going to love every song presented--though this show never rests on the strength of the music alone to entertain. Seventy-five actors and dancers are featured, and tell a very well written and choreographed story to the music of the Beatles. And the story, which goes from dark and Dickensian to bright and jubilant and lasts nearly two hours, never once has a dull moment.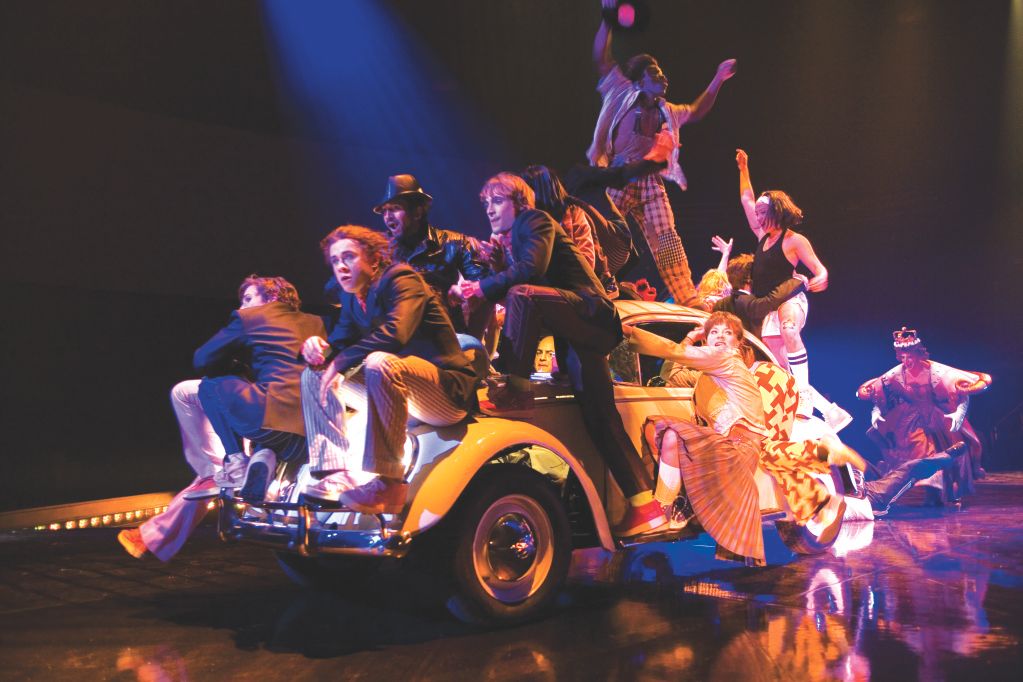 The Beatles Love

: I Want to Hold Your Hand / Drive My Car
The sound is simply fantastic. Each seat in the theatre, which is in the round, is equipped with three built-in speakers--which are in addition to the theatre's own high-powered system. Not only is the fidelity incredible, but Giles and George Martin went back to the original master tapes to mix the soundtrack, which is made up of
mash-ups
of various songs from the Beatles catalog--and by virtue of that fact,
you will hear things that you've never heard before
. And for thirty and forty-year Beatles fans, that's pretty exciting.
The sound was
so
good from my seats the second night (which were in the front row, and actually somewhat visually impeded), that when I got home from my trip and played the 5.1 DVD-a soundtrack at home, it was immediately clear that my home theatre system wouldn't sound nearly as good. I also played the vinyl soundtrack on my 2-channel system, which fared much better in comparison to the sound at the show.
Admittedly, I'm not a very big fan of Las Vegas. Crowds and cigarette smoke are generally not my idea of a good time. That said, seeing this show alone made my trip worthwhile. If you like going to Vegas and are a Beatles fan, attending this show is an absolute must. And if like me, you're not a big fan of
Sin City
, but are a fan of the
Fab Four
--I'd still highly recommend that you see it. Other than seeing Paul McCartney in concert, which I also highly recommend, there simply isn't a better way to experience the songs that you already know and love in a way that is fresh, new, and unexpected.
Very Highly Recommended
Click here for info on show tickets for Beatles Love at The Mirage, Las Vegas
Click here for info on hotel/ticket packages for Love at The Mirage, Las Vegas
Related
:
cd/surround-dvd edition
vinyl edition
RELATED:




Second Listen: Beatles in MONO (Sgt. Pepper's Lonely Heart's Club Band) Remastered Cd Review and Comparison to U.K. Mono Vinyl
First Listen: The Beatles

in MONO Box Set (The White Album) remastered cd review and comparison to U.K. vinyl
Beatles Stereo Revolver Remastered cd Review and Comparison to tube cut vinyl
Beatles Abbey Road Remastered Cd Review and Comparison to U.K. Vinyl
Beatledrops -- Samples of Beatles Mono and Stereo Vinyl, Remastered cds
Vintage Vinyl Spotlight: The Beatles Blue Box (BC-13)