Abkco has recently reissued the landmark 1969 concert album,
Get Yer Ya-Ya's Out!
in both deluxe and super deluxe edition box sets. The super deluxe vinyl edition, reviewed here, includes the original album, remastered for this release, plus five previously unreleased Stones tracks from the 1969 shows at Madison Square Garden, five tracks from B.B. King's opening performances at the Garden, and seven tracks from opening act, Ike and Tina Turner--all pressed on 180 gram vinyl. Also included is the Maysles Brothers'
Get Yer Ya-Ya's Out!
DVD, which contains performances of the five unreleased Stones songs, as well as backstage footage and video of the photo sessions for the
Ya-Ya's
album cover. Finally, there is a replica concert poster and a full-size 56-page booklet containing essays,
Ethan Russell
photos, and the original Lester Bangs album review.
(Keith Richards, from box set booklet)
While some might complain about the relatively small amount of unreleased Stones material contained in this reissue, I found this super deluxe package to be worthy of the moniker, "super deluxe." The three vinyl discs are pressed on heavy 180 gram wax, housed in poly-lined paper sleeves to avoid scuffing, and arrived clean and flat--and played quietly, with absolutely no issues whatsoever.
The five Stones cuts, including the acoustic numbers
Prodigal Son
and
You Gotta Move
, are all clearly worthy of inclusion in this set, but the real surprise in this box is the quality of the B.B. King and Ike and Tina Turner material. King's set shows him worthy of his title,
King of the Blues
and the Ike and Tina burn through their set, with the Tina showing the intensity she was so well known for. Even casual fans of these artists should find these sets to be both compelling and entertaining.
(Get Yer Ya-Ya's Out! Super Deluxe Edition Box Set)
While
Ya-Ya's
, like most live rock concert recordings, isn't quite up to audiophile standards, it actually sounds much better than I remembered--and this latest vinyl edition (digital mastering credit to Bob Ludwig, vinyl cutting by Carl Rowetti at Trutone Mastering), compared very favorably with my original UK stereo Decca vinyl copy, with a natural, organic sound and a nice lower-midrange fullness. The previously unreleased Stones tracks, as well as the B.B. King and Ike and Tina Turner cuts also share that natural tonality, complete with occasional tape hiss and 60 cycle hum, which suggests against the use of any digital noise reduction.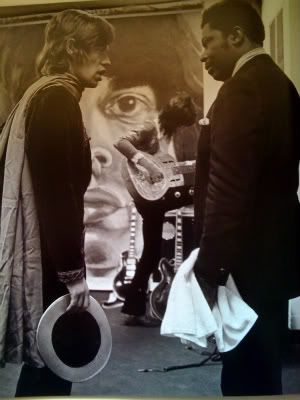 (Mick Jagger and B.B. King,
from box set booklet)
In addition to containing three vinyl discs, this super deluxe edition contains compact discs of the material as well, following the trend of providing vinyl collectors with a digital copy to listen to in the car or on their Ipods at the gym. The included Maysles Brothers DVD, while short, makes for entertaining viewing as well--and sometimes, less is more. While the five live performances were enjoyable, what I found the most fascinating was the backstage footage of Mick Taylor jamming with Jimi Hendrix, Janis Joplin chatting with the band, and Jerry Garcia and The Grateful Dead clowning around with Mick and boys, while geting ready for an airport press conference.
(Mick Jagger, Keith Richards, Charlie Watts,
Bill Wyman,
from box set booklet)
Unlike some box sets, which contain only a few photos of a group and some basic liner notes, Abkco really went the extra mile with this set, including essays, reviews, and photos that any fan of the band would love to have. The Ethan Russell photos are of particularly high quality, and until recently, like
Dominique Tarle's book on Exile
, they have only been available in the super-premium and ultra-high priced book from Russell entitled,
Let it Bleed
.
(The Rolling Stones--from Ethan Russell's
Let it Bleed
)
If you're a fan of the band and are intrigued by this era, but aren't interested in B.B. King and Ike and Tina Turner, or simply don't want to spring for the vinyl set--but want the larger sized photos, Ethan Russell has now published a trade version of his book,
Let it Bleed
. And rather than paying between $650-$950 for the limited editions of the book, you can have the trade edition with many of the same photos for a street price of less than $20.
Chuck Berry, Mick Jagger--
from Ethan Russell's
Let it Bleed
)
All in all, this is a very nicely done deluxe vinyl edition of one of rock's most heralded albums. While there isn't a particularly large amount of previously unreleased Stones material, this release set does what I believe a great box set should do: it paints a very vivid picture of what it would have been like to tour with the Rolling Stones back in 1969. If all you're interested in are the five unreleased Stones tracks, then skip the box set and
download the five songs
for the modest investment of five dollars. On the other hand, if you want the full experience, I wholeheartedly recommend this box.
Recommended
Related: Coming Soon: The Rolling Stones -- Exile on Main St (expanded edition)/ Book Review: 33 1/3 Continuum Series