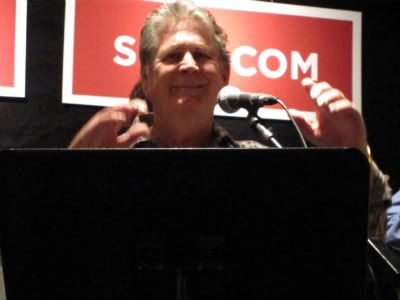 Last night, a group of roughly one hundred invited guests were treated to the experience of a lifetime as musician, composer, and Beach Boys legend Brian Wilson performed with four members of his band at the
San Francisco Art Exchange
. SFAE's co-founders, Theron Kabrich and Jim Hartley, hosted the event as a celebration of a "very special collaboration." The performance was in conjunction with the promotion of
That Lucky Old Sun

,
an exclusive fine art book and screen print set from Genesis Publications created by visual artist, Sir Peter Blake, in cooperation with Brian Wilson, and inspired by the album of the same name.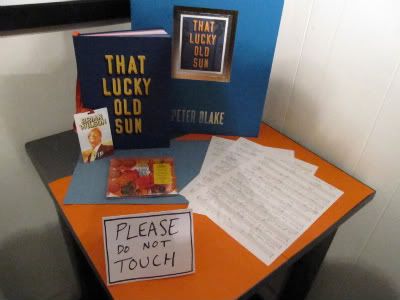 (

That Lucky Old Sun

, Genesis Publications)
The San Francisco Art Exchange is home to some of the greatest rock and roll photography ever created, and features works from the likes of Ethan Russell, Dominique Tarle, and Roger Dean. Last night, among those in attendance was Storm Thorgerson, whose legendary Pink Floyd and Led Zeppelin album cover art was prominently displayed throughout the gallery for the occasion. Along with serigraphs from Blake's

That Lucky Old Sun

, there were also carefully chosen photographs of the Beatles throughout the gallery, which only served to remind those in attendance of the true stature of the performer they were watching--perhaps, only Paul McCartney is a larger living legend in the world of pop music.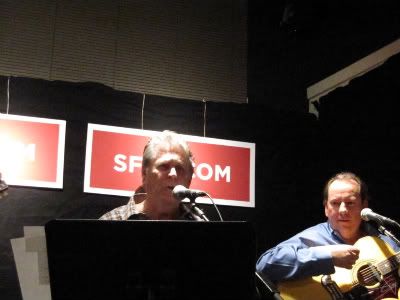 (Brian Wilson, with vocalist/guitarist Jeff Foskett)

Brian Wilson and four members of his regular band took the stage just after 8:00 p.m., and played for nearly an hour. The setlist was heavily tilted towards popular early Beach Boys material, and the crowd rewarded Wilson with enthusiastic applause and adulation throughout the set. Midway through the performance, Wilson and his band performed three songs from

That Lucky Old Sun

, then anwered with four more classic Beach Boys tunes. Wilson truly appeared to be enjoying himself--smiling, giving the "OK" sign, and pointing at various members of the audience throughout the evening.
If I had to pick one highlight, it would have to be the performance of one of pop music's truly perfect songs and noted Paul McCartney favorite:

God Only Knows

, from the 1966 album,

Pet Sounds

.
(SFAE setlist, January 23, 2010)


While Wilson's voice clearly isn't what it was forty years ago, no one--including me, seemed to care. Despite reports of years of depression and sadness, there was none to be seen on the stage last night. In fact, there is simply something magical about seeing and hearing Brian Wilson perform live. And whether that magic comes via the songs we all love, through the man himself, or by some mystical combination of man and music, during a Brian Wilson performance, you truly feel like everything is alright with the world. And when you leave, you take some of that magic with you.