Following the 2010 Super Bowl Halftime performance by Pete Townshend and Roger Daltrey, also known as
The Who
, you begin to wonder how much longer these two guys can continue. Like The Rolling Stones, Pete and Roger aren't getting any younger--and unlike the Stones, they've released only one album,
Endless Wire
(2006), since their last studio release in 1982. Since 2002, when bassist, John Entwistle died, The Who has been down to only half of their orignal lineup. And many would contend, that after Keith Moon's passing in 1978, The Who was never the same.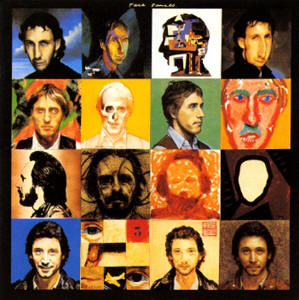 (Face Dances

, 1981)
Though it is hard to argue that The Who ever regained the fire they had in their earlier days-- as someone who came of age in the Eighties, their final two albums actually mean something to me, being the only albums by the band that I bought upon original release. And while neither of them are as consistent as any of the band's earlier efforts, I still find
Eminence Front
to be better than anything from
Who Are You
or
The Who By Numbers
. And as poppy and light as
You Better You Bet
might seem, I like it--and always will like it better than
Squeeze Box
.
(

It's Hard

, 1982)
Five years have passed since Classic Records embarked upon their campaign to release The Who's complete catalog on vinyl. In January 2005, they released
Who's Next
on 200 gram vinyl, and despite some issues from listeners whose systems weren't able to track parts of the album (leading to a re-cut), their efforts have been widely lauded by audiophiles.
My Generation
,
Tommy
, and
Quadrophenia
are considered by many to be as good or at least extremely close to the very best original pressings.
It has now been nearly a year since Classic's last Who release, the 1978 effort and final record with original drummer Keith Moon,
Who Are You
. This leaves
Face Dances
(1981) and
It's Hard
(1982). Will they ever be released by Classic? It seems that Classic's release schedule has stalled as of late and since their release of the first two Big Star records last April, very little in the way of rock titles have come out.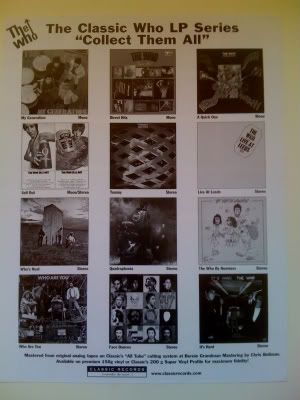 (Classic Records Who insert,
from Big Star

Radio City

)
After losing the rights to Neil Young's new vinyl releases, the Led Zeppelin reissues suddenly going out of print, and the dearth of new titles, one can only be led to believe that something is amiss at Classic. This comes at a time when the reissue label has seemed to finally have gotten everything right, with excellent mastering from original analog tapes by Chris Bellman and high quality packaging and labels true to the original releases. And the one area that had been a trouble-spot for Classic--the quality of their pressings, has been addressed, resulting in a much more consistent product with far fewer defects reported.
I contacted a source at Classic Records on Friday and she was unable to give me any further information on the final two Who releases. Stay tuned to myvinylreview, as I will continue to follow the situation. What are your favorite (or not so favorite) releases from Classic? Post your experiences below.