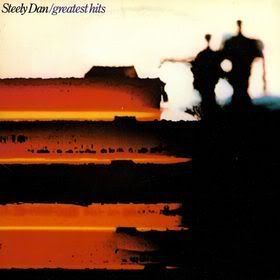 Today, a new feature makes its debut on
My Vinyl Review
: Vintage Vinyl Spotlight. In this feature, I will focus on records that contain great music, have fantastic sonics, and aren't too expensive or difficult to find.
Greatest hits packages can really be hit or miss. Often, they don't capture the essence of a band and fail to deliver a musically satisfying experience for anything more than the casual fan. Even more frequently, greatest hits packages suffer from mediocre sonics, as producers and engineers fail to pull together first generation masters from the varied sources required for a project. Today's featured record suffers from
none
of these deficiencies, and also happens to be one of my favorite greatest hits offerings by any artist.
Between 1972 and 1977, Steely Dan released six studio albums. In 1978, they released the two-record set,
Greatest Hits 1972-1978
. The Dan would only release one more record, the 1980
Gaucho
, before
Donald Fagen
and
Walter Becker
took a nearly twenty year hiatus from recording together as Steely Dan.
Greatest Hits 1972-1978
mainly covers the hit singles of the period, though more than a handful never broke the Top 50 and a few, such as their cover of
Duke Ellington
's
St. Louis Toodle-oo
, never charted. As good as the material is, most of the people reading this review probably already have all or most of the band's output from the classic period ending in 1980. The real reason to seek out this record, is the sonics.
Although
Fagen
and
Becker
always endeavored to release great sounding records, it wasn't until their 1977 jazz-rock masterpiece,
Aja
and the 1980 follow-up,
Gaucho
, that their records had great sound, and were undeniably audiophile quality. Pre-dating the boom in remastering that followed the advent of the compact disc format, the now renowned mastering engineer,
Robert Ludwig
, performed the mastering duties for the 1978
Greatest Hits
project, which contains what is now arguably the definitve version of many of their hit songs.
Ludwig employs his mastering prowess and brings new life to songs such as
Dr. Wu
, originally found on the
Katy Lied
album, which suffered from a wonky mix due to a malfunction in the DBX noise reduction system used during recording. Other sonic standouts on
Greatest Hits
are
Pretzel Logic
and
Rikki Don't Lose That Number
, both from the
Pretzel Logic
record.
Bass reproduction on
Greatest Hits
is the best I have heard on any record from this band. Instruments and vocals are well-delineated, yet never bright or analytical, and cymbals have the realistic quality that audiophiles crave. Most songs simply exhibit more low-level detail than can be heard on the original pressings.
Greatest Hits 1972-1978
was originally released on the
yellow ABC label
, with a lightly textured gatefold cover. While Robert Ludwig at Masterdisk is credited as the mastering engineer, there are a number of variations that have been released. The best sounding examples I have found, have both
Masterdisk
stamped and Robert Ludwig's initials,
RL
scrawled in the
deadwax
of all four sides. I have seen numerous variations, with some copies having
Masterdisk
, but no
RL
. Ludwig didn't always write his initials in the deadwax, so it is possible that a copy that has
Masterdisk
, but no
RL
is still his mastering.
Follwoing the takeover of ABC Records by MCA,
Greatest Hits 1972-1978
came in a single sleeve
unipack
, rather than the original gatefold cover. The label had also changed to the sky blue MCA label, rather than the yellow ABC label. Although I have seen MCA copies with the
RL
initials, by the time MCA had taken over, most copies of this record were mastered by someone else.
The best chance of obtaining the Robert Ludwig mastering of this record is to find one with the gatefold cover and yellow ABC label. Then, either look yourself or ask the seller if the magic words
Masterdisk
and/or
RL
are located in the deadwax. There are still plenty of copies of this record in local stores, as well as Ebay and Amazon. With a little patience and perhaps a little luck, you should be able to score one for far less than the cost of buying the songs on Itunes, and you'll have the pleasure of hearing the best of the best. Good luck in your search.