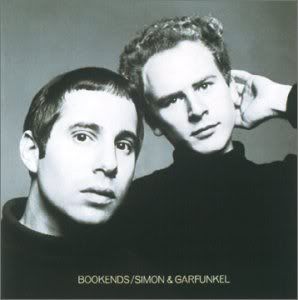 My Vinyl Review
starts a new feature today, the *
Ebay Auction of the Week
. In this feature, I will showcase an auction of interest to the audiophile or vinyl collector.
This week's auction is of an original MONO pressing of Simon & Garfunkel's 1968 folk rock classic,
Bookends
. This longstanding fan favorite marked the last time the duo offered their releases in both mono and stereo.
Bookends
produced four Top 25 singles, including the number-one single,
Mrs. Robinson
. Having also reached the number one position on the album charts, original stereo vinyl copies of
Bookends
in nice condition are not at all hard to come by.
Mono copies, on the other hand, were pressed in much more limited quantities, as by 1968, stereo had become the predominate way to listen to popular music. The mono
Bookends
has never been released in its entirety on compact disc or digital download and finding a mono vinyl copy today in any condition is quite difficult.
There is good reason, however, why collectors and audiophiles alike seek this particular mono pressing out. During most of the Sixties, popular music was released in both mono and stereo versions. Early in the decade, the mono mix was often the definitive mix of a record, with stereo versions being largely an afterthought and produced so that any given record company could charge an extra dollar per copy. The 1965
Beatles
release,
Rubber Soul
, contains such a stereo mix and many collectors and audiophiles prefer the mono mix of the album.
By the late Sixties, however, stereo mixing techniques had improved and for most records, the majority of the time spent mixing an album was spent on the stereo mix with the mono relegated to secondary importance. Many mono mixes of the time weren't even discrete mixes; instead they were fold-downs, or the simple combining of each stereo channel into a single mono channel.
Bookends
, however, is a late Sixties release where there
are
distinct mono and stereo mixes. And in this case, the mono version of the record is in many ways simply a better listen. Better vocal and instrument balance, stronger impact of the drums, and a more immediate energy is brought to many of these songs that so define the era.
As great as this record is in stereo, it really comes to life in mono. The mono version of
Fakin It
can be found on the 1999 compact disc release of
The Best of Simon & Garfunkel
. The remainder of the mono album has never again been released in any format. Until and unless that happens, any fan of this duo or serious collector of music from this era should really have this MONO recording on their want list.
*seller is not affiliated with
my vinyl review