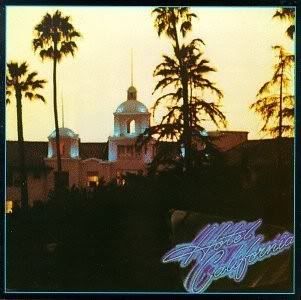 Warner/Rhino continues to deliver on their promise of releasing high quality vinyl titles and has just reissued The Eagles' venerable
Hotel California
on 180 gram virgin vinyl. Should you buy another copy of this record? It depends. The original vinyl, released in 1976, is notoriously noisy, which just isn't a good thing when listening to ballads such as
Wasted Time
or
The Last Resort
. This new reissue from Rhino, mastered from the original analog tapes by
Kevin Gray
, is not only quieter than the original, but delivers a consistently more satisfying listening experience than the original. When I received my Rhino copy, I got out my DCC vinyl as well as my original copy to compare.
The
DCC
version, mastered by Gray's partner,
Steve Hoffman
, and considered for years to be the definitive issue of this record, excels in delivering vocals to the listener. The vocals have a full, rich quality to them that is unmatched by the other versions of this record. The tradeoff for the rich vocals and the accompanying lower midrange/upper bass fullness, is a top end that can lack energy and sound a bit sluggish.
The Rhino reissue has a more balanced overall sound, with tight bass, liquid midrange, and an active, yet never overly bright top end. The vocals, while not quite as full-sounding as on the DCC, are still delivered with complexity and are never harsh or thin-sounding.
My original Asylum vinyl simply does not compare and isn't much of an audiophile experience after listening to the DCC and the Rhino versions of the record. The vocals sound a bit thin and etched, the midrange lacks complexity and can't deliver the out-of-phase guitar tones featured in songs like
New Kid in Town
like the others can, and the bass tends to sound soft and ill-defined.
So, should you buy this Rhino reissue? If you have a DCC copy and are happy with it, there is probably no pressing need to buy it. On the other hand, if your original copy is worn, noisy or you desire an upgrade, or you've never owned a vinyl copy, then by all means pick one up. The DCC is long out of print and sealed copies fetch at least three times the cost of the Rhino. Unless you have a particularly forward or bright system--where I believe the eq of the DCC will be a better match, you should be very happy with this reissue. Recommended.