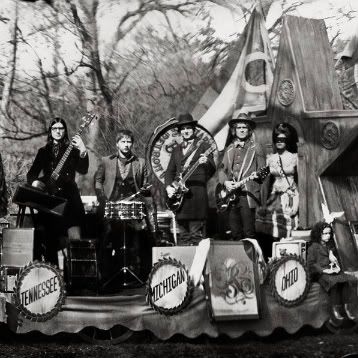 Today's addition to the best sounding releases of 2008 is The Raconteurs'
Consolers of the Lonely
. If you're expecting a redux of
Broken Boy Soldiers
, this certainly isn't it. Brendan Benson plays a more prominent vocal role and the result is a welcome alternative to the shrieking vocal style of Jack White. This two-record set allows the band to showcase more than the proto-punk meets
Led Zeppelin
sound that White is famous for--expect to find elements of folk, punk, the restrained use of some
Stax
-inspired horns, and even some progressive rock--listen to
Rich Kid Blues
and you'll hear keyboards reminiscent of
Emerson, Lake and Palmer
. What this record lacks in cohesion, it makes up for in performance, songwriting, and variety. This is simply an fascinating record that anyone who grew up listening to music from the 1960s and 1970s will in some way relate to.
Consolers of the Lonely
demonstrates how great vinyl can be when mastered properly from a well-recorded analog source. The band has gone out of its way to point out that it believes that vinyl is the way this record should heard--and released it on vinyl right out of the gate rather than making fans double-dip and buy the
inferior
cd first and then have to spring for the better-sounding vinyl later. Recorded directly to one-inch tape and mastered by vinyl-guru Kevin Gray, everything one expects from an excellent vinyl release can be heard. The soundstage is wide and detailed, and tonality is evenly balanced--never shrill or bright. Great dynamics abound, with a big drum sound reminiscent of
John Bonham
's drums on
Physical Graffiti
.
This release is yet another indication from Warner Brothers that they are taking their vinyl program seriously. Two nicely pressed slabs of 180 gram vinyl allow the full dynamic range and prodigious bass to blast from the speakers. The packaging doesn't disappoint either with a heavy-stock tri-fold cover, poly-lined inner sleeves, and large postcards of each bandmember. While the music on this release is very good, it is the stunning sonics and excellent packaging that make this vinyl release a must-buy.