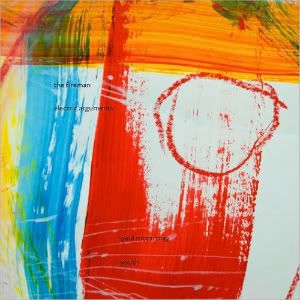 Paul McCartney
is back with
Electric Arguments
, a collaborative, eclectic collection of songs. McCartney used
The Fireman
moniker to distinguish this as a true collaborative side-project with DJ and producer
Youth
, rather than merely another McCartney solo record, and in that he has succeeded. There are only a couple of fairly typical McCartney-romps, such as
Highway
, but most of the record is infused with a free-flowing style that can't be found on the usual McCartney releases. The second half of the record is much more experimental fare, such as the world-music infused
Is this love?
or the ehthereal
Don't Stop Running
, which clocks in at over ten minutes. This record may not be McCartney's finest work, but it certainly stands apart from the polished style he has fallen into over the years. For those hoping for another solo project, there could be disappointment, but for those wishing Sir Paul could break out with truly fresh material, Youth seems to have provided just the muse he needed.
The vinyl version of this record has been advertised as a very limited release and the premium gatefold vinyl is packaged in a heavy plastic outer sleeve. The dual 200 gram platters arrived perfectly clean and flat, devoid of any pressing issues and played quietly. A cd of the entire record is also included in a custom labeled white paper sleeve.
Sound quality varies throughout the record, with acoustic numbers showcasing greater dynamics and ambiance than the heavier electric selections. The vinyl boasts
direct metal mastering
(DMM), and while this author is generally not a fan of that process, this vinyl release has none of the hard edges sometimes associated with it. The vinyl has a slight edge over the compact disc in overall spaciousness and ambiance, but not so much that it couldn't be ruled out by differences in the listener's system.
If you are a die-hard
Beatles
or vinyl collector, then by all means get the vinyl. Otherwise, save some money and pick up the cd or digital download. Either way, this isn't your father's Paul McCartney album.