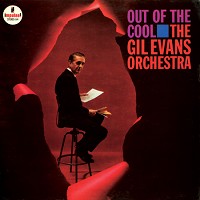 Analogue Productions has finally started releasing titles from their highly anticipated Impulse jazz 45 RPM series. Following the success of their 45 RPM Blue Note jazz series, Analogue Productions, along with a new label, Original Recordings Group (ORG), have each embarked upon campaigns to reissue Impulse jazz titles on 45 RPM 180 gram vinyl.
ORG released their initial Impulse titles in April of this year, including the truly exceptional
Live at the Village Vanguard
. Among the initial titles just released by Analogue Productions is the 1962 classic from The Gil Evans Orchestra:
Out of the Cool
.
In preparation for this review, I compared the now out-of-print 33 RPM 180 gram stereo reissue from Alto Analogue, as well as an original Rudy Van Gelder mastered stereo Impulse pressing (which was generously loaned to me by Bay Area analog guru and owner of
The Analog Room
,
Brian Hartsell).
This stereo two-record test pressing of
Out of the Cool
was pressed at RTI. Analogue Productions credits the mastering to Kevin Gray, however, Steve Hoffman's initials are also in the deadwax of these test pressings. All commercially available copies will be pressed at the Pallas facility in Germany and will contain the same mastering found on the test pressings. While the test pressings arrived flat and played quietly, moving the pressing duties to Pallas should be seen as a positive development given their well-deserved reputation for consistently producing ultra-premium, super-quiet vinyl pressings.
In 1960, when the Impulse label originally came onto the scene, one of their selling points was their luxurious gatefold covers. Not surprisingly, when Analogue Productions announced this series, there was great speculation over what their jackets would look like. That speculation can end now. The glossy gatefold cover is made of thick, extra-heavy cardstock, on par with what is used in the
Music Matters
Blue Note series. Rather than including session photos, Analogue Productions has faithfully reproduced the inner gatefolds found on the original Impulse vinyl.
1961 Impulse print advertisement
The 45 RPM vinyl has a highly detailed sound, and is considerably more dynamic than either the Alto Analogue or the original RVG-mastered Impulse stereo. The album's opening masterpiece,
La Nevada
, features a performance by Johnny Coles reminiscent of Miles Davis'
So What
. Throughout the fifteen-minute tour de force, Evans creates his
cool
atmosphere by weaving many disparate elements together, with particularly effective use of guitar and percussion. This 45 Rpm mastering holds all of these elements together, never distorting like the RVG original is prone to do. Similarly, on the album's final cut,
Sunken Treasure
, the 45 RPM pressing is noticably less strident than the RVG original, which was again, prone to distortion toward the end of the album side.
This 45 RPM mastering, however, doesn't quite capture the essence of
Cool.
Sounding much warmer than either the RVG original or the Alto Analogue reissue, what sounds like a rolled-off top end saps away some of the energy heard on both the original and Alto versions. While I've found a similar tonality on some of the Hoffman-mastered Rhino and DCC reissues, it hasn't bothered me on any of the dozens of Analogue Productions and Music Matters Blue Note 45s I've listened to over the past several years, which have consistently sounded superb. Whether this tonality will extend to the other titles in this Impulse series is unknown, as I've yet to hear them.
Gil Evans and Miles Davis
If there is one Gil Evans title outside of his work with Miles that is mandatory,
Out of the Cool
would be it. Original pressings can suffer from distortion and are difficult to find in clean condition. Although the Alto Analogue also suffers some degree of distortion, it otherwise sounds very good, but is now out of print.
That brings us to this 45 RPM version. If you are generally a fan of the 45 RPM format, this offering from Analogue Productions offers the improvements you would generally expect--and the lack of distortion and increased dynamics are sure to please many listeners. While I found the tonality to be lacking in high-end energy, those who are sensitive to high frequencies or who have bright or forward systems will definitely appreciate this mastering as well. Stay tuned for further reports on this series, including the much-anticipated
Blues and the Abstract Truth
from Oliver Nelson.