The Music
In commemoration of the 40th Anniversary of Jethro Tull's landmark 1971 album, Aqualung, E.M.I. has just released a newly re-mixed 2 cd version of the classic, along with the deluxe version reviewed today. Like many others, during my youth, I went through a multi-year progressive rock phase listening to Yes, Genesis, and the like. That phase included Jethro Tull as well. Admittedly, it has been quite a few years since I've re-visited the genre--and one of the most pleasant surprises about re-discovering this record has been that there's actually very little prog, and more Cat Stevens and Black Sabbath. In this vein, most of the included alternate versions and unreleased tracks from the Aqualung sessions, weigh heavily toward the folksy and acoustic--rather than the long time heavy FM staples generated by the record.
(Jethro Tull, 1971)
Deluxe Set Contents
E.M.I. really went all-out with this set, including something for every audiophile, including a Blu-ray disc, a DVD, two cds, and a single 180 gram vinyl disc. Each of these fomats contains a newly re-mixed version of the original album, assembled by Steven Wilson, of Porcupine Tree. He transfered the original analog work parts to hi-res 24/96 digital to assemble the re-mix, and Peter Mew completed the mastering at Abbey Road Studios. In addition to the re-mixed original album, there are fourteen additional tracks of alternate versions and unreleased tracks--most of which were also re-mixed.
The Blu-ray and DVD discs also contain the re-mixed stereo tracks in hi-res 24/96 resolution, as well as the original album and five of the alt tracks in 5.1 surround, plus the inclusion of the original quad 4.1 mix, previously available only on vinyl and 8 track tape. The Blu-ray even contains a flat transfer of the original album mix. A hardcover book containing original album art, liner notes, session information as well as other tidbits rounds out the package, which fits nicely into a cloth bound slipcase.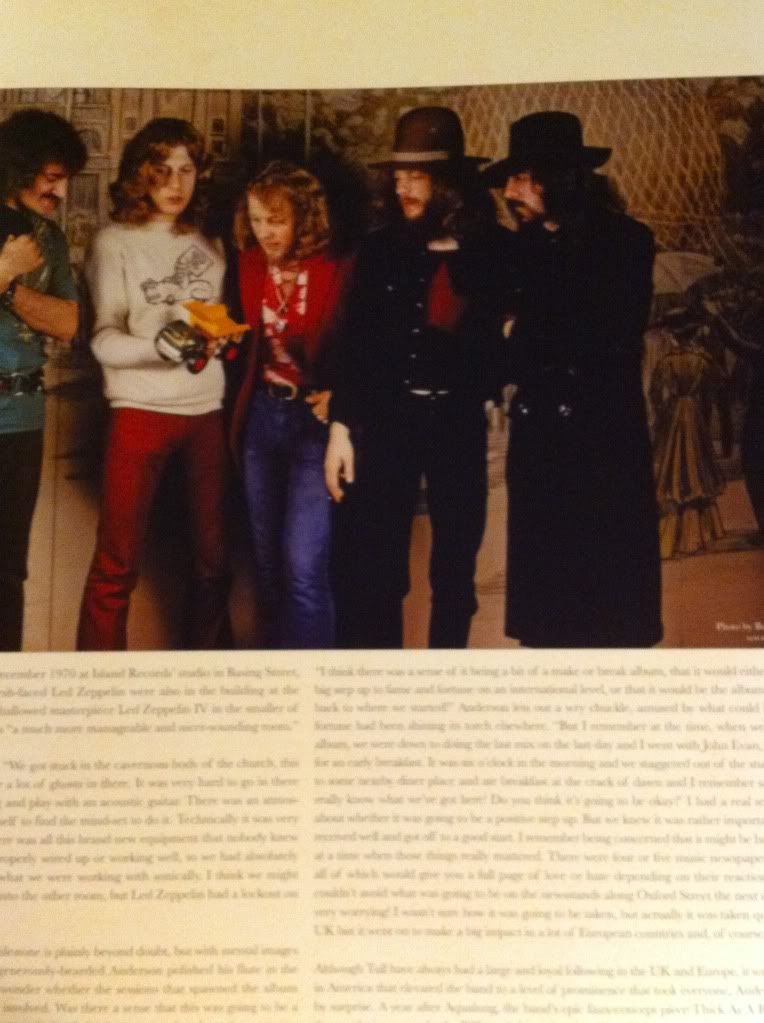 (Aqualung 40th Anniversary--hardcover book)







The Sound
Most audiophiles will tell you that they are generally opposed to re-mixes of their beloved albums, preferring to cling to the original mix--no matter the shortcomings. This new mix of Aqualung is likely to change many opinions. Notoriously murky, the original Aqualung mix was remastered over and again over the years, both on vinyl and compact disc. But, as they tried to fix the inherent issues of a congested, murky mix, all of them were nothing more than compromises, continuing to be hampered by shy bass, rolled-highs, or a congested midrange.
Having owned or heard many of these over the years and eventually settling on the overly bombastic MFSL vinyl, I was more than pleasantly surprised when I listened to Steven Wilson's new mix. Ian Anderson's vocals are still nicely centered, but the drums, guitar, keyboards, and most of all the bass have all been brought farther up in the mix. The bassline in Cross-Eyed Mary, for example, is nicely articulated, as is the lead guitar. Wilson makes a point in the liner notes of informing the listener that he attempted to stay as faithful to the original mix as possible, using emulations of vintage reverbs and eq, in his attempt to stay true to the original--and he is certainly successful. The mastering by Peter Mew is also tastefully restrained, boasting a very wide dynamic range and never becoming bright or strident, but allowing the vocals and newly-unveiled instrumentation to shine through.
(Aqualung, Original Tape Box)
























The 5.1 mixes are also very tastefully done and bring out details not heard on the two channel version--listen to the bonus track, Life's A Long Song, for beautifully articulated orchestration through the rear speakers. For those who think you favor the original quad mix (also included in the set in hi-res)--you might be converted here, as it sounds positively over-drenched in echo compared to Wilson's excellent new 5.1 mix.
Although there is no separate vinyl credit, Steven Wilson has reported that it was cut from the same 24/96 digital files as the Blu-ray disc. The 180 gram disc arrived perfectly flat, clean, and played quietly throughout. While it shares a similar sonic signature with the compact discs, it brings forth additional detail and spacial cues that aren't heard with the lower 16/44 resolution cd. Also, if you have more invested in your vinyl rig, you can expect the vinyl to best the Blu-ray. On my system, for example, the vocals sounded richer, the soundstage was wider, and the guitars exhibited more midrange complexity compared to the 2-channel mixes as heard on both the cd and Blu-ray discs.
Conclusion
I haven't had this much fun with a reissue in quite some time. Sure, at first it seemed like a bit of overkill with vinyl, cds, and Blu-ray/DVDs all in the same set. But, I've played these discs on every music delivery system I have-- 2 channel vinyl, surround system, at work, in the car, and through headphones--and each time it was a slightly different and very enjoyable experience. If you're a fan of this record and have never quite been happy with the sound, your search will end here. The new mix is clearly superior to the old--besting all of the remasterings, including the DCC and MFSL vinyl. And if you can't quite say goodbye to the original mix, a hi-res 24/96 direct transfer is included as a bonus on the Blu-ray. Boasting definitive new stereo and surround mixes, well-mastered hi-res transfers, and excellent alternate and unreleased tracks, this deluxe set has it all.
Highly Recommended
2cd Edition
: