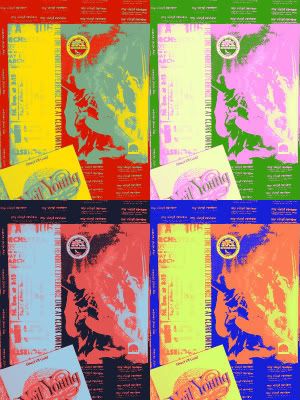 Now that Record Store Day 2010 has come and gone, chances are that you either couldn't find all of the items you wanted or you couldn't quite decide what was worth picking up. Despite the fact that most of the items were limited, Record Store Day exclusives, many have already made it to Amazon or Ebay--so if you want them, grab them now. Here are a few of the more popular items that you might have been intersted in.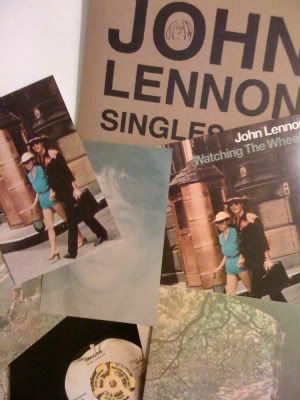 The John Lennon Singles Bag was one of the most popular items for Record Store Day 2010. It contains three 7" 45 RPM singles, with their original artwork:
Mother
b/w Yoko Ono--
Why
;
Imagine
b/w
It's So Hard
; and
Watching the Wheels
b/w Yoko Ono--
Yes, I'm You're Angel
. Also included in the bag, are a 24"x36" poster of John and Yoko, three postcards, and a custom Record Store Day 7" single adaptor hub. This package was priced at a relatively reasonable $24.98 list and was limited to 7000 numbered copies.
I opened my copy to find everything that was promised. The three singles, however, all had varying degrees of warpage, and contained quite a few markings. They all played more or less ok, but were nothing special as far as sound goes--and the song selections could have been better. How about
Instant Karma!
? Nonetheless, as an instant-collectible, it does the job--and Beatles collectors and completists will definitely want one. Although not yet on Amazon, there are plenty of copies on Ebay--and you can do a quick search via the box on the left side of this page.
A late addition to the list of Record Store Day exclusives, was a Neil Young 7", featuring his only number one single,
Heart of Gold
(mono) b/w
Sugar Mountain
(mono). New artwork was created for this release by Young's longtime art director, Gary Burden. The single was mastered from the original analog tapes by Chris Bellman, of Bernie Grundman Mastering--and the deadwax on both sides indicates that it is a special Record Store Day edition. The sound is excellent--especially
on
Heart of Gold
, which has nice, full bass that seems to be accentuated by the mono mix. This release was limited to 5,000 copies and can now also be found on Ebay.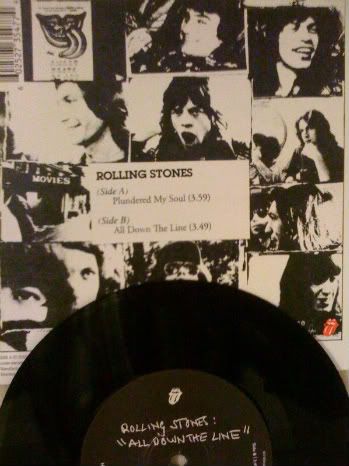 My favorite Record Store Day 2010 item was probably the latest 7"single from the Rolling Stones. Buying a 7" single in anticipation of a new album from a favorite group, certainly brings back some great memories.
Plundered My Soul
b/w
All Down the Line
, is the "new" single from the forthcoming deluxe expanded remastered edition of the Rolling Stones'
Exile on Main St.
A mid-tempo rocker, in the tradition of
Tumbling Dice
,
Plundered My Soul
, is a welcome addition to the Stones' canon, and only increases the anticipation for the expanded release next month. Stay tuned for a preview of the new tracks, coming soon to Myvinylreview. You can preview the entire song now by clicking on the link at the top of this page. Like the other RSD items, this single is now available on Ebay. If you decide not to go for the vinyl, you can still get it via download from Itunes or Amazon.
Jimi Hendrix fans were treated to a special authorized bootleg release of a live show from 1968,
Live at Clark University
. This previously unreleased concert contains five cuts from a Jimi Hendrix Experience show, recorded on March 15, 1968. Sound quality is only average, and the performances aren't as good as the very best that have already been released. Still, for Hendrix fans, it is certainly worth owning. This release is available now at
Amazon
.
The Flaming Lips released their
vinyl version
of
Dark Side of the Moon
, a limited sea foam green 140 gram disc (w/included cd). This item reportedly sold out at many locations on Record Store Day. Nonetheless, it is still available from
Amazon
. Look for an upcoming review of the vinyl, here on Myvinylreview.
Congratulations to the winners of the 2010 RSD Myvinylreview.com giveaway: Carson P. (Jimi Hendrix:
Live at Clark University
vinyl), and Mary B. (Neil Young:
Heart of Gold
45)!