Last Wednesday, we lost one of pop music's finest. Alex Chilton was a singer, guitarist, and composer of some of the greatest pop songs ever created.
There are basically two kinds of pop songs that move me: those that make me feel young, and those that remind me of what it was like to be young. With Big Star, Alex Chilton succeeded in doing both of these things, like almost no one else. To this day, Big Star is virtually unknown, compared to many of the artists, such as Cheap Trick, The Bangles, and R.E.M., who were so fundamentally influenced by them. Yet, once you hear them, chances are you'll be hooked.
No matter when you discover Big Star, they'll move you. If you're sixteen years old, you've almost certainly already met your own September Gurls. If you discover them later in life, the timeless themes of adolescent lust and heartache will resonate just as deeply, and can instantly take you back. Alex Chilton, however, was never one to be stuck in the past. At just sixteen, he started as lead singer for the highly successful pop outfit, The Boxtops
. After four years, he left the highly successful group and went on to found Big Star. And after producing only three records, he went on to have a mercurial solo career--following his own path, if perhaps sometimes to a fault.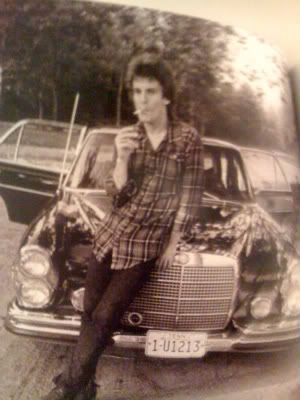 (Alex Chilton (1973), from boxset booklet)
The last couple of years had been pretty fantastic for Big Star fans. 2008 saw the release of the two-disc retrospective, Thank You Friends: The Ardent Records Story
, which contained over a dozen previously unreleased Big Star nuggets. 2009 was even better, with the reissue of their first two records, #1 Record
, and Radio City
on vinyl, to be followed by Bruce Eaton's book, Radio City (33 1/3)
. And late last year, long-suffering fans were finally treated to what has to be the year's finest retrospective set, *Keep An Eye On The Sky
, a 4-cd boxset containing demos, unreleased tracks, a 1973 show from Lafayette's Music Room in Memphis, plus a superb book of notes and photos of the band. Finally, just when fans thought things couldn't get any better, Rhino Handmade released a superb deluxe 2-cd set of Chris Bell's I Am the Cosmos.
Recently, Big Star had played a couple of gigs with the re-formed lineup consisting of founding members, Alex Chilton and Jody Stephens, along with Jon Auer and Ken Stringfellow of The Posies
. They were scheduled to play the SXSW music festival in Austin, Texas on March 20, and many fans of the band who had yet to see them live were again feeling hopeful about getting the once-in-a-lifetime chance.
Sadly, no one will ever again have that chance. Nonetheless, Alex Chilton will continue to move people. And his myth will continue to grow, through new generations of fans continuing to discover the magic that is Big Star.
Related: Read the full reviews of Big Star #1 Record and Radio City vinyl reissues
*Top Chilton photo, from
Keep an Eye on the Sky
boxset