Every time you ask someone to name a living jazz icon, the name
McCoy Tyner
undoubtedly comes up. As pianist for the legendary John Coltrane Quartet from 1960-1965, and as the leader of his own groups thereafter, Tyner has been one of jazz's most influential figures and continues to inspire pianists around the world.
Tyner and his quartet are back at
Yoshi's Oakland
, for six nights of shows running from December 29-January 3, 2010. Last night, on the first night of the stand, he showed that he still has what it takes to please a crowd, leaving no doubt why he's had such a lasting impact upon the world of jazz.
Tyner took the stage for the night's second show shortly after 10:00 p.m., accompanied by Ravi Coltrane on saxophone, Esperanza Spalding on bass, and Francisco Mela on drums. The quartet played for just over an hour, leaving the crowd standing on its feet asking for more. Although he doesn't have the stamina he once had, Tyner, now seventy-one, still gave the crowd exactly what they came for--his signature, powerful left-handed attack, big chords, and multiple harmonic layers of sound that filled the room with sound and inspired the players accompanying him to play their very best.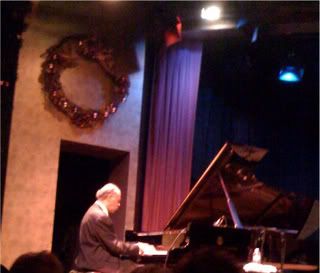 (McCoy Tyner, at Yoshi's Oakland, 12/29/09)
I've seen Ravi Coltrane with McCoy several times before--and last night, he appeared to have gained confidence, sounding the best I have ever heard him. Francisco Mela's muscular style of drumming, while not particularly dynamic, was a good match for Tyner's percussive piano style, and Spalding's expressive bass-plucking nicely filled out the quartet's sound.
Sitting in the second row enabled me to hear each player's instrument unamplified, which is my preferred way to hear a live show. The minor trade-off, however, was that Spalding's bass was often lost in the mix, competing with the aggressive attacks of Tyner and Mela. Those sitting a bit further back in this intimate club, while relying more on the club monitors, would likely be rewarded with hearing more of Spalding's bass work. I still wouldn't trade my up-front seat, but some might prefer the sound mix a bit farther back in the room.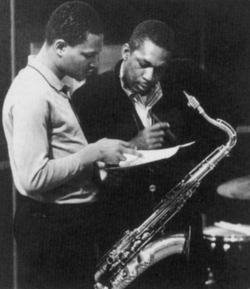 (McCoy Tyner, John Coltrane)
Highlighting the evening's late set were a stripped-down arrangement of Tyner's
Fly With the Wind
, featuring Ravi Coltrane's buttery-smooth sax and Francisco Mela's muscular drumming, and Tyner's own arrangement of John Coltrane's
Moment's Notice
. Ravi Coltrane rarely performs his father's compositions--and when he initially began the melody of the 1957 Blue Note classic, he sounded a bit tentative, but quickly gained steam as he jumped right into the opening solo.
I had an opportunity to chat with Ravi after the show, and when I asked him how he decides which of his father's songs to play, he stated that "what we play is up to McCoy--and McCoy has recorded
Moment's Notice
." When I asked what other John Coltrane compositions they've performed, Ravi could only think of one, stating that he's previously played the third suite of
A Love Supreme
:
Pursuance
, with McCoy. He couldn't say if it would be played this week--but what a treat it would be if it were.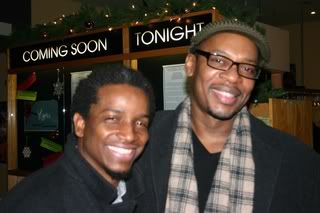 (Francisco Mela and Ravi Coltrane at
Yoshi's Oakland, 12/29/09)
Each year we seem to lose another jazz great. Last year, it was Freddie Hubbard--who sadly had lost much of his prowess by the time he died. Tyner, while not quite as energetic as he once was, still gives up the goods and is an inspiration to those playing with him as well as to the crowd listening to him. If you've enjoyed seeing him before, you'll enjoy seeing him again. And if you're a jazz fan and have never seen him live, you owe if to yourself to see him while you can.
The McCoy Tyner Quartet will be at Yoshi's Oakland for two shows daily through Sunday, January 3, 2010, including a special extended New Year's Eve show.
Visit the Yoshi's website for ticket information.
Highly Recommended
Related:
McCoy Tyner:

Quartet
Live at Yoshi's