Yesterday, John Coltrane would have been 83 years old. Amazing, that he's now been gone longer than he was with us. Still, he continues to entertain and inspire us, day after day.
After two weeks of listening to virtually nothing but The Beatles, I've taken a break from them. And in celebration of Coltrane's life, I've been playing his music all day, and I hope that you'll join me in celebrating his larger than life spirit.
Below, I've included some of my favorite photos, as well as live performances of
So What
(with Coltrane on tenor) and
My Favorite Things
(with Coltrane on soprano and Eric Dolphy on flute). I hope you enjoy them.
John Coltrane
John Coltrane, Cannonball Adderley, Miles Davis, and
Bill Evans at 30th Street Studio
(
Kind of Blue
session, 1959)
John Coltrane, Miles Davis
(Kind of Blue
session, 1959)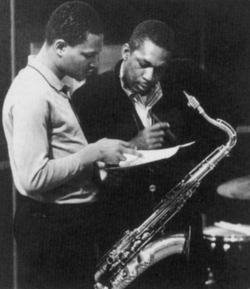 (McCoy Tyner, John Coltrane)
(John Coltrane)
Related Reviews:
John Coltrane: Live at the Village Vanguard 45 RPM 180 gram vinyl
John Coltrane: Giant Steps 45 RPM 180 gram Rhino vinyl