Myvinylreview's Best of 2010
2010 has been another big year for vinyl. With a dizzying number of reissues, super deluxe boxsets, and new vinyl releases coming out every month, it has become more important than ever to have some idea what you're getting when you plunk down your hard-earned cash. Here's a list of some of the best vinyl releases of 2010, along with a few other non-vinyl items of interest to the Myvinylreview reader. I hope you enjoy it!
Myvinylreview's Year End Giveaway
As a year end Thank You, and to help encourage participation by those on Facebook, here's a little contest that you can easily enter: JUST CLICK THE "LIKE" BUTTON IN THE FACEBOOK BOX ON THE RIGHT SIDE COLUMN, and you'll automatically be entered to win any one item of your choice that is featured in the Best of 2010 feature. Good Luck! *The winner will be announced the week of December 13, 2010.
45 RPM Reissue of The Year
John Coltrane: A Love Supreme (Analogue Productions 45 RPM)
While more challenging than Kind of Blue, A Love Supreme is perenially on the list of the most popular and sought-after audiophile titles. And until now, there has never been a 45 RPM reissue, let alone one that allows the listener to come so close to these incredible Coltrane sessions. Analogue Productions does everything right with this Kevin Gray-mastered reissue, right down to the glossy gatefold cover. And the sound is delivered with a degree of detail, and most of all dynamic range, that simply doesn't exist on any other version--vinyl or cd, of this album. I expect that this pressing will be the one to own for many years to come.
Runner-Up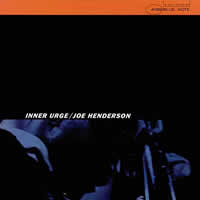 Joe Henderson: Inner Urge (Music Matters 45 RPM Vinyl)
(Inner Urge, gatefold session photos)


Last year's winner of the 45 RPM Jazz Reissue of The Year, Music Matters (Tina Brooks: Back To The Tracks 45 RPM), continues to release ultra-premium jazz reissues each month--and this year's 45 RPM runner-up exemplifies the very same qualities as last year's winner. Excellent title selection, packaging and customer service from the team of Joe Harley and Ron Rambach, combined with superb mastering from the team of Steve Hoffman and Kevin Gray, and excellent pressing at RTI make the Music Matters 45 RPM jazz series the finest reissue series ever.
Inner Urge, captures Joe Henderson with an excellent supporting cast, at what many feel was his creative peak--and this pressing does so with a dynamic range, extended tonal palatte, and clarity that has come to be expected from the Music Matters jazz series.
click image to buy
from Music Matters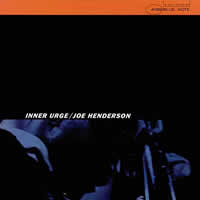 Archival Vinyl Release of The Year
Bruce Springsteen: The Promise (3-LP 180 Gram Vinyl)
With this release of twenty-two songs conceived, and mostly recorded during the three turbulent years between Born to Run and Darkness On The Edge Of Town, The Promise not only allows the listener to share in Springsteen's creative process of thirty years ago, but also makes you feel as if you've found a long lost friend. With a much wider variety of songs than the tightly-focused Darkness, The Boss' love of Motown, Fifties and Sixties pop, and Doo-wop can be heard throughout. While the sound on the faster numbers veers into Spectorian wall-of-sound territory, the vinyl showcases the simpler compositions with a richness unmatched by the digital version.
The Exile on Main St expanded reissue resulted in exactly one new memorable addition to the Stones' canon. The Promise, has delivered no less than a half-dozen and is nothing short of essential for any fan of Springsteen or late 20th century pop music.
New Rock Release of The Year
Peter Wolf: Midnight Souvenirs (2-LP Vinyl)
(Peter Wolf and Shelby Lynne, on Jimmy Fallon)
After an eight-year hiatus, Peter Wolf returned this year with Midnight Souvenirs--and it was well worth the wait. A sprawling array of influences can be heard throughout the record, from the Van Morrison-inspired horns on Don't Try to Change Her, to the Dylanesque country tinge of Thick as Thieves, to the Some Girls-era bassline of Watch her Move, to the Philly Soul of Overnight Lows. The sonics are very good, especially for a modern release, and Chris Bellman's vinyl version brings forth additional dynamics and detail missing from the digital release. Like
Sleepless
, I expect it to become a cult classic--so if you think you'll ever want the vinyl, you'd better pick it up now or regret it later.
Runner-Up
Tom Petty and The Heartbreakers: Mojo (w/ hi-res download)
Despite receiving a writing credit on only three of the album's cuts, Mojo is definitely Mike Campbell's record. It certainly doesn't contain the jangly pop we've all gotten used to hearing from TP over the past thirty years. Instead, guitar-driven, bluesy--even progressive, are what come to mind--with songs like First Flash of Freedom, evoking the Allman Brothers, and even Led Zeppelin--rather than the Byrds and Bob Dylan. The vinyl mastering from Chris Bellman carries a full, warm sound that is well-balanced, but particularly good at showcasing the creamy mids of the PAF Humbuckers in Campbell's Les Paul.
Record of The Year
The Rolling Stones: Plundered My Soul (45 RPM Single)
(Mick Taylor, Exile Nellcote sessions)
On April 10, 2010, in honor of Record Store Day and to promote the release of their upcoming Exile on Main St deluxe expanded editions, the Rolling Stones released the single, Plundered My Soul. The mid-tempo romp, conceived at the time of the original Exile sessions, features bluesy guitar overdubs from Mick Taylor and a new vocal from Mick Jagger in the tradition of Tumbling Dice. Not only did the song fuel speculation about a possible reunion with Taylor, but it also captured the imagination of legions of fans worldwide, and reached a high of #2 on the Billboard Singles Sales Chart. Whether you pick up the limited edition 45, or one of the deluxe expanded Exile reissues, Plundered My Soul has earned the designation as a bona fide hit, and will be remembered long after the rest of Exile's bonus tracks are shelved and forgotten.
Live Reissue of The Year
Frank Sinatra: Sinatra At The Sands (Mofi 180 Gram Vinyl)
Mobile Fidelity and engineer Rob Loverde went back to the original mix tapes to master this legendary live release from the Chairman of The Board--and the resulting vinyl is more dynamic, carries a richer tonal palette, and removes a layer of grain from Sinatra's voice compared to the original Reprise. The uptempo songs, such as Come Fly With Me, and Fly Me to the Moon, swing more--and on ballads, such as the signature, One For My Baby, Sinatra's voice is rendered with greater realism, as the upper-midrange grain has been removed and Sinatra's chest voice comes through with a previously unheard muscularity. This is simply the best that this material has ever sounded.
Archival Video Release of The Year
Ladies and Gentlemen . . . the Rolling Stones (Blu-Ray Video)
(Rolling Stones, Exile tour rehearsal)
Following the release of the Exile on Main St deluxe editions, The Rolling Stones continued their reissue campaign with the long-awaited release of Ladies and Gentlemen . . .the Rolling Stones. This concert film, shot over four nights in Texas during the 1972 Exile tour, was briefly seen in theatres in 1974 and heavily bootlegged ever since--and now sees its first legitimate release. And it was worth the wait. While the semi-dark video is not quite up to modern standards, the lossless DTS-Master Audio track does justice to what many feel is the band at the height of its powers as a live touring band. Just seeing Richards sharing the vocal of his signature song, Happy, with Jagger is nearly enough to justify this very reasonably priced piece of Stones history.
*Winner will be selected at random at the sole discretion of Myvinylreview and prize is subject to availability on Amazon or Music Matters. No substitutions, or other warranties express or implied.