This week's featured *Ebay auction brings the rare opportunity to acquire a complete set of UK Rough Trade vinyl from British indie rock band, The Smiths. Anyone who was in college or university in the U.S. or Great Britain--or followed indie rock in the Eighties, surely listened to The Smiths.
A Bona Fide phenomenon in The U.K., The Smiths, led by
Morrissey
on vocals and Johnny Marr on guitar, Andy Rourke on bass, and Mike Joyce on drums, were arguably the most influential group to come out of England in the decade. Morrissey's sexual ambiguity, tales of angst and alienation combined with Marr's organic, guitar-driven sound presented a compelling alternative to the synth-dominated popular music of the day and propelled them to the top of the alternative indie rock scene. To this day, The Smiths still enjoy a steady cult following.

This auction includes UK vinyl pressings of the four
proper
studio albums released by the band between 1984-1987:
The Smiths
,
Meat is Murder
,
The Queen is Dead

, and Strangeways, Here We Come
. Also included in this auction are UK vinyl copies of the 1984 release, Hatful of Hollow-- a collection of BBC Radio recordings, singles and b-sides, the 1987 compilation,
The World Won't Listen
, and the 1988 live release,
Rank
.
The Smiths originally signed with the British independent label,
Rough Trade Records
, and all of their records would be released on that label in the U.K. In the United States, Sire Records would release everything except for
Hatful of Hollow
, which was available as an import only.

While the U.S. Sire vinyl was good enough to satisfy the majority of college students and others wanting copies to play in their dorm rooms, serious fans of the band as well as collectors soon realized that the original U.K. Rough Trade vinyl sounded significantly better. Whether better tapes were used or the mastering techniques were different, the U.K. Rough Trade pressings sound more natural-- especially in the midrange, have more detail, and are more balanced sounding records than their Sire counterparts.




The Queen is Dead, considered by many to be the band's crowning achievement, sounds particularly good, and the Rough Trade vinyl, which is particularly difficult to find, has a full midrange, absent on the Sire, which allows Marr's blistering guitar work on songs such as

Bigmouth

, to be fully articulated. Add the fact that the compact disc releases from Sire--and now WEA, have never been particularly well received, and there is a compelling reason that the Rough Trade vinyl is as desireable as ever.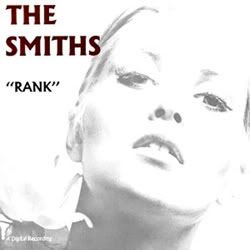 Whether you are a long-suffering vinyl collector or a fan who has never quite been satisfied with the Sire or WEA releases, this auction presents the opportunity to obtain the best sounding pressings of the essential Smiths releases. And if you can't bid on this auction or don't win it, keep trying and eventually you'll hear this band like you may have never heard them before.

*seller is not affiliated with myvinylreview